The week started off with a bang when much celebrated and internationally acclaimed journalist, activist and film-maker won her second Academy Award for a documentary on honour killings in Pakistan.
Honour killings not only rob women not only of the right to their own life but also turn men into savages. The practice does not restore any lost "pride" of the family, only makes for a cruel, barbaric act. Movies like Sharmeen's allow a debate on such orthodox practices that need to be abandoned immediately.
The #Oscar for Documentary Short goes to… pic.twitter.com/1dcwYjEwgs

— The Academy (@TheAcademy) February 29, 2016
The win for Sharmeen was majestic.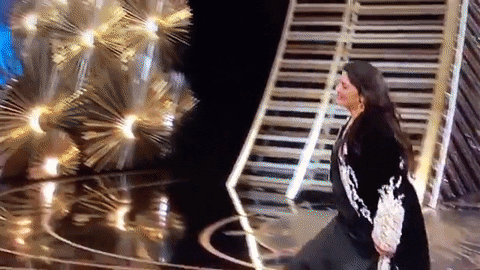 Right after the announcement of the award and in fierce jubilance, Sharmeen tweeted:
#pakistan!!!!!!!!!!!!!!!!!!!

— Sharmeen Obaid (@sharmeenochinoy) February 29, 2016
Twitter Pakistan joined in with their shared pride.
For those of us who have been raising our voices against honor killings, @sharmeenochinoy's Oscar win means EVERYTHING right now. #Pakistan

— Bina Shah (@BinaShah) February 29, 2016
It was a marked day for celebration and victory.
Qadri hanged ✔️
Sharmeen Chinoy won an Oscar ✔️
Dicaprio won an Oscar ✔️
Petroleum price decreased ✔️
Pakistan won ✔️

What a day. 29-02-16.

— Shumail (@Shumyl) February 29, 2016
Along with this great victory, Women's Protection Bill was also passed, adding to the joy.
I've seen Pakistan bag Oscars, I've seen our govt. defeat Mullahs,Ive seen Leo win an Oscar.
This is it. There's nothing left for me to see.

— tumblr boy (@Shairlock) February 29, 2016
Which was not only a win for Pakistan but for all of Humanity.
Mumtaz Qadri dead
Sharmeen Chinoy won an oscar
Leo won an oscar

Good day for Pakistan, a GREAT day for humanity ?

— Jibby (@JibbyD) February 29, 2016
Many acknowledged the power of film.
Day @sharmeenochinoy wins #Oscar for film on #honourkillings two brothers in #Lahore sentenced to death for killing their sister. #Pakistan

— Mehreen Zahra-Malik (@mehreenzahra) February 29, 2016
Every time Sharmeen Chinoy makes an Oscar-winning documentary, the law in Pakistan changes. Hoping her next film is about load-shedding.

— Aatif Nawaz (@AatifNawaz) February 29, 2016
There was an upset over Sharmeen's film projecting a negative image of Pakistan. Many talked about this sarcastically, with a hint of humour.
The way people get defensive when an evil of our society is highlighted on an international stage is hilarious.

— o (@omairraslam) February 29, 2016
Trashing Sharmeen for exposing country's heinous crimes is like trashing your doctor for diagnosing you with cancer/AIDS.

— Yours Sarcastically (@zohad1997) February 29, 2016
Sharmeen Obaid should show the positive side of Pakistan. My blood group, positive end of batteries. That sort of thing.

— Shanta Walcott (@ZoydPls) March 1, 2016
Pointing out the irony.
Burning tyres, blocking roads, destroying public properties, BUT let's bash Sharmeen Obaid for portraying bad image of Pakistan…

— no. (@maaham_k) March 1, 2016
Other objections were also raised.
Film actor Moammar Rana says Sharmeen Obaid Chinoy portrayed negative pic of Pakistan to win Oscar,she must also make film on Drone's impact

— Khalid Khan™ (@khalidkhan787) March 1, 2016
Many talked about the said 'negative image' of Pakistan.
Sharmeen has brought bad name to Pakistan. Is sa pehlay sab ko lagta tha Pakistan bhi Paris type koi jaga ha.

— Shanta Walcott (@ZoydPls) February 29, 2016
Highlighting the evils in the society that are widely present and need to be immediately addressed.
Honor Killings, Child Molestation and rape itself are not bringing bad name to the country but her film is.
Salute ha aap ki logic ko.

— Ibrar (@IbrarIbrahim) February 29, 2016
Why it's our national duty to hate on Sharmeen Obaid Chinnoy pic.twitter.com/rnMfkZS5S0

— Nauman (@iNaumanDogar) February 29, 2016
Shots were fired.
Ho Mann Jahan ko milna chahye tha Oscar us main positive side dikhai hai Pakistan ki

— darko (@razeppelin) February 29, 2016
MET department shouldn't tell every1 abt the earthquakes that occur in Pak. Sends a negative image. We've rain & snowfall. Show that instead

— V (@CurlJung) March 1, 2016
#PakPositivesSharmeenShouldFilm

Boy in the Toilet: The life and times of Farhan K Virk.

— Xill-e-Ilahi (@XilleIlahi) February 29, 2016
Keyboard warriors were also encouraged to be more proactive.
The people who are crying over @sharmeenochinoy winning an Oscar go effing make a documentary on positive image of #Pakistan & win #Oscars

— Imran Ghazali (@ImranGhazaliPK) February 29, 2016
Ye SharminObaid pr he kyun lazim hy k wo apki marzi ke pak-posotive film banaye? Apko uski ideology nai pasand tu khud kuch himmat kerain!

— I. (@imdadawan) February 29, 2016
Activists joined in, lauding Sharmeen in her pursuit of the bold subject and appreciating her efforts.
This is what makes #Pakistan look bad. Not Oscar-winning filmmaker & advocate for women's rights @sharmeenochinoy https://t.co/3CY5IotYPh

— Mona Eltahawy (@monaeltahawy) March 1, 2016
Those who say highlighting acid attacks and honor killings in Pakistan is western agenda should be thinking why is it not our own agenda yet

— Jibran Nasir (@MJibranNasir) February 29, 2016
A Girl in the River will be screened at the United Nations.
We will be showing Sharmeen's film at the UN

— Maleeha Lodhi (@LodhiMaleeha) February 29, 2016
Sharmeen stands as the only woman of colour to have won an Oscar this year.
So @sharmeenochinoy is literally the only woman of colour who won an academy award this year: https://t.co/T8FE6RELPz

— bayl (@rabayl) March 1, 2016
She is also one of the two from this part of the world to have had the honour.
Two South Asians won last night both in the documentary film category! Asif Kapadia & myself!

— Sharmeen Obaid (@sharmeenochinoy) February 29, 2016
She graced the red carpet wearing a floor-length black coat and matching dress by a Pakistani designer, Sana Safinaz. MORE POWER.
On the red carpet #Oscars2016 @TheAcademy pic.twitter.com/OB3SHRobdO

— Sharmeen Obaid (@sharmeenochinoy) February 29, 2016
There is a dire need to change the conversation about Sharmeen Obaid Chinoy. "A Girl in the River: The Price of Forgiveness", followed the story of an honour killing survivor in Pakistan, shedding light on a raging concern in various quarters as well as a gross human rights violation. Sharmeen was able to demonstrate the transformational power of film and the need to speak up. Citizens like her are the real heroes of Pakistan, who continue to fight against tyranny with their words, actions and continued dedication.
We are supremely proud of you, Sharmeen Obaid Chinoy. You're a force majeure.
More power to women like Sharmeen changing narratives.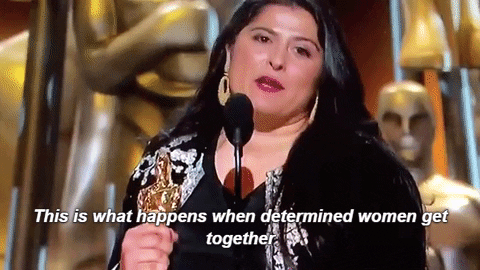 And men who support their endeavours and work by their side.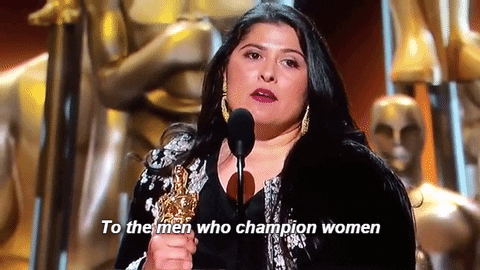 ---
Zarra ye bhee check karein: