People with special needs are often misrepresented in Pakistan. As a collective, we tend to see them shunned by their own families. They are sent to separate schools, not allowed to thrive in public spheres and have limited opportunities in terms of making normal friends, getting a regular job and sustaining themselves.
Even if they are given some sort of attention, most of the time it is laden with pity, sympathy and no sense of genuine understanding.
When this new campaign graced our television, we couldn't help but tear up a little.
Blue Band addressed the issues of handicapable children in the best way possible.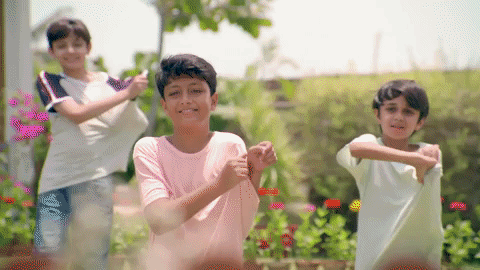 Did we say tear up a little? We meant a lot. A WHOLE lot. Not only did it get the conversation around kids with special needs started, it created the perfect context for what came next:
A one of a kind event in partnership with Special Olympics Pakistan.
From start to finish, the whole event seemed completely inspiring. Through multiple events including '"Both, Buddy And Me" differently-abled olympians were paired working and playing alongside children, we could see glimpses of what a much more inclusive and understanding Pakistani society could look like.
And it looked pretty amazing:
How
Precious

Are

These
The event had a massive turn out and everyone throughly enjoyed all the fun and games at the inflatable arena.
SO MUCH FUN YAAR.
Achai barhnay do for real.

Pakistani celebrities flocked in to attend the event and compete along with their designated handicapable buddies and it was an event like no other
We saw Aaminah Sheikh with her buddy. Just the smile on his face is priceless.
It was great spending time with such talented kids. We should arrange such outdoor events more. Great effort by #Blueband #AchaiBarhnaydo pic.twitter.com/DpAXNhgzDL

— Dr. Shaista Lodhi (@IamShaistaLodhi) September 17, 2017
The cutest power couple Syra and Shehroz Sabzwari ran the race side by side with their excited buddies.
What a wonderful sight!
@faysalquraishi takes part in spreading Smiles on these innocent faces ❤ ??? #BlueBand #BBPR #AchaiBarhnayDo ?✌️ pic.twitter.com/fsBTw4j5si

— Mariyam Tariq ?? (@Blackeyez17) September 18, 2017
Asim Azhar not only performed at the event but also loved spending time with his little buddies.
He even gave them an impromptu singing lesson.
Khalid Anam, who really got the party started was also enjoying himself.
Don't their happy faces tell it all?
Here's to hoping there are more initiatives like this to not only promote but one day achieve an atmosphere where children with special needs are not only embraced but allowed to thrive.
What are your thoughts about the event? Do you think more events such as these should be arranged? Let us know in the comments section below.
---
This piece has been sponsored by Blue Band.