These days, many Pakistanis choosing to go and study abroad. Regardless of which university you end up attending, you're likely to find some unique Pakistani characters.
1. The Accent Chameleon.
The moment they step foot on gora soil, their accent changes to his/her surroundings. Listening to them in class is so painful that sometimes you wonder if Meera is their phupi.
2. The Desi Magnet.
Always surrounded by desis, they will look down upon you if you hang out with students that aren't desi.
3. The Desi Repellent.
These are the polar opposites of the magnets. If one could repel desis with Mortein, they would gladly spray it around them.
4. The Shan Masala advertisement type.
This person is always homesick. If it was up to him, he'd go back to Pakistan every weekend to eat mummy ka khana.
5. The Zaid Ali T.
He does everything but study.
7. The Chikni Chameli.
She thinks she's exotic and has an ego larger than Burj Khalifa.
8. The Prince Of Dubai.
Everyone thinks he's an Arab prince and he chooses not to correct anyone. Shameless insaan.
9. The Shareef Insaan
This person has no bad habits and is someone your parents want you to hangout with. He/she is also a huge bore.
10. The Honey Singh Ka Saala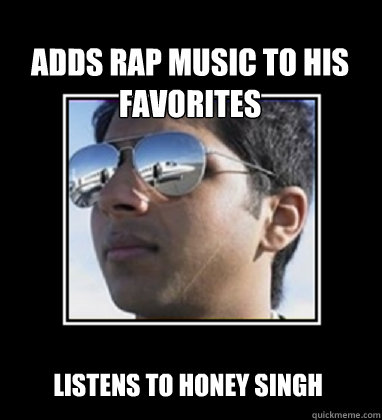 He dresses like a kaala and talks like he's yo yo's saala.
11. The Nerd
All he does is study. Bad grades = end of life.
12. The Halaly
He/she will drink alcohol, party it up, do all the wrong things but when it comes to eating halal food, there will be no compromise.
13. The Foodie
As long as it's not pork, they'll eat whatever comes their way.
14. The International Culture Rep
They represent Pakistan and its culture wherever they go
15. DJ WV
They don't know how to pronounce their w's and v's. They drop the beat by mixing them up.
16. The Rishtadar Express
Wherever they go, their phupis and chachis follow them.
17. The Phone Addict
Either they're talking to their family, long distance girlfriend or Pakistani tutor, they are always on the phone.