French magazine Charlie Hebdo is no stranger to controversy. They were the topic of significant attention in January after publishing irreverent pictures of the Prophet. And now, 8 months after the attacks on their headquarters in Paris, the magazine is back to their imprudence.
While the entire world is in grief over what the Syrian people have experienced, Charlie Hebdo resorted to making a mockery of Aylan Kurdi, the boy who was recently found dead on a Turkish beach. Oh, and all this in the name of freedom of speech.
"Si près du but…" which translates to "So close to his goal."
Meanwhile, there is a billboard in the scene that reads "Two children combos for the price of one."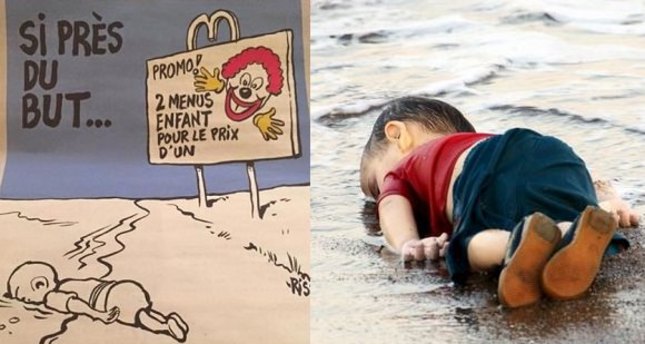 It doesn't stop there. There's more.
"The proof that Europe is Christian."
A man who can only be a depiction of Jesus Christ, is standing on water and saying "Christians walk on the water" while a child is sinking into the sea while saying "Muslim children sink".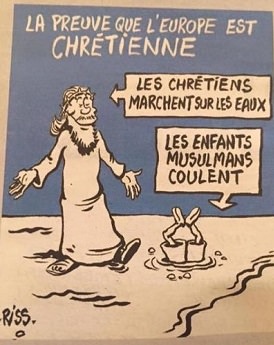 There are some people that argue that these pictures are a mockery of European attitude towards the refugees rather than a mockery of the child's death.
That seems a bit hard to believe.
Charlie Hebdo gives a bad name to freedom of speech.
In the name of free speech, Charlie Hebdo published a deeply disrespectful cartoon, back in January. In the aftermath of the attack on their headquarters, people from around the world showered the magazine with support; including Muslims.
Now, let's compare what Charlie Hebdo has done. During one of the worst human displacement crisis in history, they believe it's a great idea to mock the memory of an innocent child who was a victim of war.
It's very likely that the magazine isn't doing well financially. Let's hope they don't continue to sell shit like this for too long.
Je ne suis pas Charlie.