One of the biggest attributes of 2016, amidst all the political ruckus, was the virality of our very own pyaara chai wala Arshad Khan. It began with a simple click by Jiah Ali that was posted on Twitter, where MangoBaaz swooped in and got mesmerized by Arshad's gaze and the opportune timing of it all.
"Just look at those big green eyes colluding my emaan", we wrote, plastering a big fat close-up smack in between the article.
What happened next even caught us by surprise as media outlets locally and internationally spread the image across televisions channels, social media platforms, newspapers, blogs and everything print or visual on Earth. A tea-seller sitting somewhere in Jummah Bazaar, Islamabad was completely oblivious to how his life had been changed forever.
And change, it did.
Two days later, we spotted him in the bazaar, in regular unkempt day clothes and ruffled hair and we were hopeful of all the immense possibilities that lay ahead.
Swarming with cameras and mics, television anchors buttered him up, asking him about his preferences in girls, teasing him with questions like, "do you see a resemblance with Shahrukh Khan?". It was all in good fun. He seemed to be a little uneasy, but not unforthcoming.
He answered questions in short phrases, I watched him as he disclosed having 17 siblings and a history of selling vegetables. The eighteen-year-old green eyed boy had never been to school, let alone dream of a life that would be any different than the one he had already. In all his ignorance,  owing to the lack of exposure, education and the kind of background he had, he made a statement, something to the effect of ghairatmandi.
What exactly is Ghairatmandi? What constitutes izzat-daar kaam?
Fast forward the next few weeks, Arshad was able to acquire a manager, he made appearances in small gym gigs, morning shows, branded shoots and walked the runway alongside Pakistan's famous models.
He took some very hot photos in what was just the beginning of his modeling career.
He also starred in a music video alongside some Pakistani rappers (and looked pretty damn fine in a suit, might I add)
Although the song was cringy AF, Arshad shone.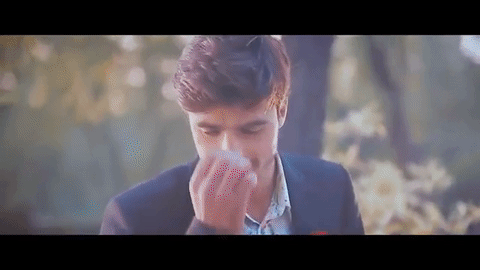 The latest from his career were photos with Mrs. Pakistan 2016 Muskan Jay for a music video being shot in Dubai.
The song," Beparwai" was supposed to be a tribute to legendary singer Noor Jehan."It's almost like the uncrowned Mr. Pakistan is now appearing with Mrs.Pakistan 2016″, we wrote. This was an exciting development and the photos featured them in close proximity, not that anybody should have a problem with that.
But they did. It was ghairatmandi, after all.
Soon after that shoot, people started criticizing Arshad Khan, they brought up his statements made in prior ignorance, called him out profusely for being a hypocrite. They lashed out at him, called him a fake, a sell-out, all in all, just a shoddy man for all his biases.
And that's the thing about words, they catch on.
From drawing rooms to chai dhaabas, from talk shows to molding popular opinion. Those who initally sung praise for him for his "promising career" were now dragging him down based on the false premise of izzat and ghairat. People from his hometown, his family, everybody turned against him. In efforts to redeem himself (and let's also put some blame on his manager's bad "management" decisions), he appeared on a television show, apologizing for his 'indecent' behavior.
Appearing on ARY Digital's New Years Eve broadcast, Arshad Khan apologized for his questionable photographs, stating that he had disappointed his fans.
Seems like that apology didn't exactly cut it because today Arshad Khan has declared that he will no longer be a part of showbiz.
His manager Abdullah confessed that the pressures from his family to quit the world of entertainment never really went away, the final nail in the coffin being his shoot with Muskan Jay.
"Since Arshad has quit showbiz, he looks set to return to the Islamabad dhaaba he used to work at prior to his tryst with fame,"
Abdullah, Arshad's manager, said in his interview with Express Tribune.
It's funny, the way this whole episode has unfolded. The life of progress is ridiculously deemed beghairat while living an impoverished life is somehow thought to be one of more honor. In this sad tale of rags to riches to rags all over again, it would be a great disservice to allow this to occur, let alone be a silent observer to a systematic circle of misguided notions driven by inaccurate concepts of honor; one that has not only crippled women but also greatly affected lives of men.