'Verna,' Shoaib Mansoor's latest directorial project has been in the headlines for many reasons. Whether it was Mahira's absolutely kick-ass avatar in the film, the hidden details in the poster, or the crazy teaser that was just dropped, the team behind the film have definitely kept us on the edge of our seats, in sheer anticipation of what the film is about and when we'll get some more information about it.
And now, the first song from the film has just been released and it's a whole other ball game, compared to what we've seen of the film before
The vibe that they've set is bright, happy, and absolutely beautiful
It's also the official introduction for Haroon Shahid, the male lead, in the film
Haroon's already an established singer, with his own band SYMT and having appeared on Coke Studio, as a solo artist, as well. And this is his acting debut. We can't be happier seeing him take over other mediums of art, as well.
The song gives us a glimpse into the love that Mahira and Haroon share in the film
And a third, yet to be announced character
A sister, a friend perhaps?
The interaction between the leading pair is heart-wrenchingly adorable
But it definitely gives us some 'Hona Tha Pyaar' vibes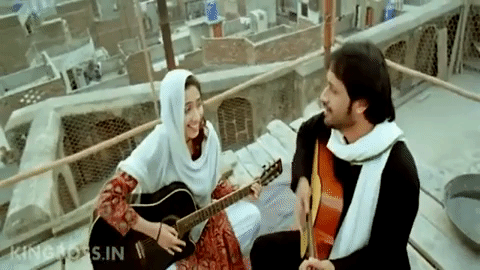 Also, we NEED to talk about how gorgeous Mahira Khan looks in the song
And just how handsome Haroon Shahid is!
People are also absolutely in love with the song
What do I do? I've totally fallen in love with this song from Verna.❤️❤️And @TheMahiraKhan looks awesome as always! https://t.co/73JMbdyEXc

— Jessy Rajkumari (@RajkumariJessy) October 6, 2017
And they won't shy away from expressing that love
Loveee this ❤❤ #Verna https://t.co/LEpMLUm7wX

— ایمن غفاد (@aymun_ghaffar) October 6, 2017
Not one bit
This is beautiful ?❤️ You were so awesome in the teaser of #Verna! ??

— Zum (@Bolnadilse) October 6, 2017
Along with Mahira, Haroon was also praised
Wow So Beautiful all three of you..Haroon Bhai Nice to see you with the QueenKhan

— Imran Khan (@imran_vk) October 6, 2017
And of course, the sheer beauty of the song was also appreciated
Itna pyaaara, ? oh god! Such a beautiful song.

— ? (@babarazeem0) October 6, 2017
We honestly can't wait for the trailer of the film and of course, for the actual film to come out.
You can watch the whole song here and tell us what you thought about it!
---
Cover Photo Via ShoMan Productions