Prosthetic makeup, also called Special make-up effects and FX prosthesis, is the process of using prosthetic sculpting, molding and casting techniques using makeup to create advanced cosmetic effects.
And the effects are unlike anything you've ever seen
Dracula the play in Lahore piqued our interest by using some of these prosthetic makeup tricks in the cool new production. Directed by Saihaam Khan and Mahnoor Zaidi, the revolutionary play is like none of the previous adaptations of Bram Stoker's classic in Pakistan, mainly because of the heavy investment in aesthetics.
We decided to check some BTS action during the play rehearsals where one of the characters, Creature, was being all decked out with some freaky makeup.
While all the set makeup is being handled by Sante, the prosthetics are being managed by Rija Kashif Sheikh, a third year fine arts student from NCA Faisalabad. The self-taught artist has learned all the tricks of the trade through Youtube and lots of experimentation.
If that doesn't sound hard enough, imagine how it is with the lack of products available in Pakistani market, forcing makeup artists to improvise.
Some of the products used everyday items like BB creams, foundations and the Naked makeup palette along with cotton, tape, aluminium foil and a solution which contained ammonia. Speaking to MangoBaaz, Rija explained, "The only thing that I buy is liquid latex. Everything else, I make it myself from scratch. Since there no places around here that sell SFX products, and stuff I find online is too expensive, I use what I find around the house, more specifically the kitchen and make all my stuff like different kinds of blood, scar wax, skin etc."
This particular look on actor Hassan Reza will take 6 hours to complete, half of which we got to witness.
This look on Hassan will be done four times in total and he will have to come 7 hours before the play starts for the special effects makeup look. (that's commitment right there, folks)
How does one get interested in creating looks like these? For Rija, it 'just happened'
"I had always been into regular "beauty" make up or whatever you call that. A little over a year ago, around the time when suicide squad came out, I was recreating looks from the movie. I decided to do the original joker instead of the really disappointing one in the movie. And I made the "smile" scars quite spontaneously, just grabbing some cotton and glue and water paints. I liked how it came out, I've been doing it ever since. I'm obsessed."
All this while she can't stand the sight of actual blood/wounds.
Just for kicks, we asked her what were some of the funniest things actors have said while getting their makeup done.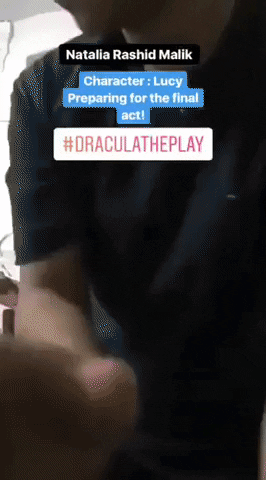 .
"Iss se pimples tou nae honge?? Ye utarte huye meri daarhi ke baal tou nae utren ge sath?
Dekh lena yaar, jalay na skin pe."
#TheMoreYouKnow
Dracula is on stage from 19th to 22nd April At Al Hamra Arts Council in Lahore. Don't forget to catch the show and watch the magic live. 🙂