There was a moment, eons ago, in a galaxy far, far away when you judged your friends for being too obsessed with Instagram. You laughed at their #tbt's, shrugged at their need to shutterbug their way through every meal and rolled your eyes when they asked for your advice on the choice of filters but ironically, things took a turn for the worse when you eventually got sucked into the rabbit hole yourself. Now, things are not really the same, are they? Here are a few intense feelings you can relate to in case you're hopelessly in love (and deeply addicted) to Instagram:
1. You have shamelessly posted a #wokeuplikethis selfie when you actually did NOT wake up like this.
Fake it till you make it.
2. #NoFilter is a lie and you know it.
You have to choose a filter that works best for your complexion and goes hazy around your tummy, obvious si baat hay.
3. You look down on people with no hashtag etiquette.
But let's just admit…we've all done that at one point in life.
4. A lot of your free time goes into stalking the sh*t out of people you quite possibly envy and hate.
Oh my God her hair is so perfect, her skin glows, she legit has pearls in her teeth, her smile is #flawless but itni bhi pyaari nai hay I don't know why guys are going crazy after her smh.
5. You admire your favorite Instagrammers for their supreme aesthetic.
And have been saving money to get your hands on the new Samsung Galaxy J Series 2016 just so you can take such photos as well.
6. You've tried to think of creative ways to dress up your dish whenever you cook and things have gotten a little…awkward. 
Oops?
7. Deciding between Valencia and Mayfair filters becomes almost as important a decision as choosing the right college.
8. You get irrationally excited when the number of likes goes past 11.
Let's nacho!
9. and delete photos when they don't get enough likes because seriously, what's the point even?
10. The moment of betrayal when you see something Instagram-worthy and forget to actually INSTA IT.
Can't. Even. Deal. With. Beauty. Anymore.
11. Pictures that are not symmetrical bother you to no end.
Honestly, why can't you just use the square camera setting?
12. You just don't get how people could ever stuff their face before taking a photo from just the right angle.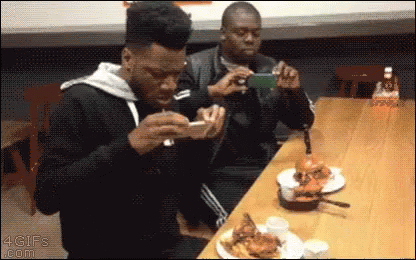 I mean, are you a monster?
13. You sometimes like to test out different filters on photos you plan to put up later just to lock one down.
14. There is a folder full of pictures you want to upload to Instagram later on.
Everybody knows you have to upload pictures on the weekends for more likes.
15. You secretly enjoy your DMs more than you openly admit.
This just about sums your life:
"Why are you eating the dinner again, Alfred?"
"Sir, I forgot to instagram it earlier."

— Alif (@TisBatman) February 27, 2014
If your life is all about being instafamous, grab the latest Samsung Galaxy J Series 2016 with wide angle camera for perfect grandfies and crystal clear quality.
This article has been prepared by MangoBaaz for Samsung Pakistan.