Football is not a game for everyone, especially if you live in Pakistan. Our country is filled with passion for cricket. People do not understand the struggles of a football fan. They don't understand how your mood depends on your team's performance or how invested you are in the matches. They don't understand your overwhelming emotions.
If you too are a football fan in Pakistan, I'm sure you find the following annoying too:
1. People keep telling you how Barca, Real, United etc cannot be your team when you live in Pakistan. Pakistan is your team.
I swear this really pisses me off. They don't understand the sense of ownership you feel when you're a big fan. For them, there's only team Pakistan. They will all say things like 'tum toh kabhi Spain gaye bhi nahi'. Toh?! Kya connection hai?
2. No one understands that your random mood swings aren't random, but because your team lost or a player got injured.
Even if you're not a Liverpool fan, this was the saddest thing we saw in football this year: Salah injured in the Champions League final. All fans were sad and about to cry, while the non-football fans are like 'yaar pagal toh nahi ho?'
3. Nobody in your family respects our football schedule. Drama kal phir repeat hojayega. Match toh live hai
You get all hyped up, all excited, You got your snacks on – it's all going well. Then your mom walks in and emotionally blackmails you into letting her watch Arsal and Jia battle it out.
Even if somehow you convince her to let you watch the match she will go away saying something like 'mere marnay keh baad qadar karo gay meri' so you feel guilty about watching the only thing you turn the TV on for.
4. Ghar ke kaam ruin everything for you.
You wait an entire week for your team's match, watch all the previews online, read up and build up the match in your head, fighting and bantering with all the rival fans, literally clearing up your schedule so that you can watch the match in peace – only to be forced to take your mom to khala keh ghar or the darzi for her urgent chores that can't wait.
5. The internet's always too damn slow for live streaming.
Ohh, this has to be one of the most frustrating things ever. You keep missing parts of the match. As a result, you keep swearing at your internet connection for ruining things for you. You just feel over the edge.
6. Your passion for football confuses people. This is their face when they see you celebrating
Fans go absolutely bizarre with their emotions. You go crazy when your team concedes a goal, you go crazy when they score (in a good way this time). Your family scolds you after hearing you scream during the matches. They just don't get it, your emotions are out of your control. You don't know what you say or do. You just react to the match.
7. Nobody takes you seriously when you ask for a bride who likes football.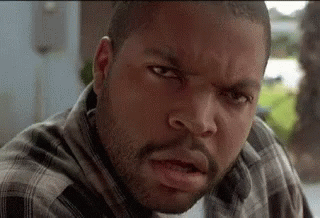 When they ask you about your pasand and you say she must like football, they just start laughing like it's a joke or something. They will make fun of you and start mocking you over it.
Bhai logon aapko kya maloom about the harmony, it will bring into our lives when wifey and I are both football fans.
8. You dislike bandwagoners severely
When you're at a  function and you meet people who like football, there's always this one guy who keeps butting in and interrupting with zero logic, who only knows about football through FIFA 18 or watching highlights on their FB news feed.
Nah karo. It's embarrassing.
9. You can't stand it when someone compares a player according to their FIFA 18 ratings. 
When someone compares Ronaldo and Messi based on their FIFA ratings – it's just infuriating. Just…don't do it. Or learn.
10. Bijli and matches ki dushmani bardaasht se bahir hoti hai
This has to be one of the most annoying experiences of a Pakistani football fan. Fun fact: the amount of gaalis given in this time frame is directly proportional to the rate of load-shedding. No matter how chill you are, when the electricity goes right before the match starts, you lose it.
11. You constantly have to choose between early classes or the match
You always face the tough choice of either getting enough sleep or watching the match. And you always choose the match. The next day, you sit like a zombie in class. Some legends on the other hand just don't bother showing up at all. Either way, the time difference is a real pain in the ass.
12. You get scolded by your parents or older siblings for making too much noise.
Have you ever watched a match where your team was two or three goals down and made an epic comeback? Well, if you have then you know how crazy you can get. Your emotions are out of control. Not even love can make you feel this way. You jump, scream and laugh in amazement. It's all very fun and very loud until someone in your house comes up and tells you to stfu. But it's totally worth it.
13. You hate that local channels sometimes don't telecast the matches
A test match lasts 5 days and a Formula 1 race seems to last all day. Why can't channels just show the match? It only lasts 90 minutes. Also, I mean who watches the entire test match? Football fans wait an entire week to watch one match, phir bhi yeh haal hai. Hadh hai.
To all you football lovers in Pakistan, I feel your pain. Let's hope it gets easier. If we've forgotten any struggles, let us know in the comments below.
---
Cover image via express.co.uk