Your childhood is supposed to be a happy, carefree, eidi collecting, Tilo Express playing time. But scratch the surface and it becomes a collection of excruciatingly mortifying moments. Of course, it never helped that your parents made you commit fashion faux pas that still wakes you up in a cold sweat (if only they had this back then).
Here's to hoping you won't end up as serial killers because of that time Ami made you wear a full sleeve shirt under your dress on your 5th birthday party:
1. Coordinated clothes with siblings
Why does any parent ever think that this is okay? WHY? I AM AN INDIVIDUAL GODDAMMIT. LET ME ASSERT MY PERSO – oooh cookie.
2. This…and pigtails.
In the 90's, this monstrosity was everywhere. Our shoes, our shirts, even our pants. No child deserved this kind of mistreatment.
3. Bunny Rabbit Dungarees 
Um. Yeah. Ali Zafar needs a hug.
4. Poofy Frocks
Torture devices straight from Satan's personal workshop. They make you look, and feel, like a walking talking loofah.
5. Kimonos 
Shhhhh. Its all right, sweetie. You can pick your own clothes now.
6. The horrifying pyala cut
Seriously, was there an active attempt to destroy our self-esteem?
7. Dressing kids up as adults
Little boys in bowties and little girls in lipstick are Not cute. They're creepy AF. Poor Danish Taimoor already looks worried about Tax Rebate Forms.
8. These frilly things
Full marks for emotional damage to Hareem Farooq's parents.
9. Gravity defying shorts
Here it is, Ladies and Gentlemen. The day, in fact the very moment, that Aamir Liaquat decided he would spend his life making people suffer the way his pulled-up-far-too-high shorts made him feel.
10. High Neck Sweater
Poor Bipasha can't believe her beautiful outfit has been sabotaged by the worst enemy of little girls everywhere.
 11. Collective Sabotage
Sonam still weeps over this picture as she huddles in a corner in her walk-in closet.
12. The Snowman Look
Hamza Ali Abbasi was crying out for help. Nobody took him seriously. And now he has Facebook.
13. Long socks under shorts
Here we have Atif Aslam writing the beginning of 'ab toh aadat si hai mujh ko', as he laments his mother's fashion taste.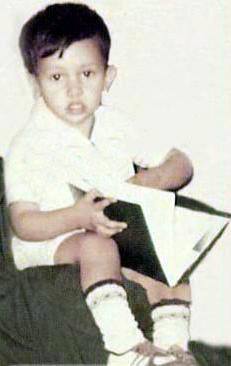 So, correct the mistakes your parents made and opt for a brand that captures the wonder and joy of childhood. Get something that focuses on simple yet fun designs and plays with modern color palettes, so you can do away with those poofy frocks and gravity defying shorts.
Do your kids a favour, and leave the fashion designing to the experts. Pop over to your nearest Hopscotch and leave the joy and wonder of childhood intact.
Cover image via: indiatvnews.com
---
This article is sponsored by Hopscotch. Hop on to their nearest outlet to take advantage of the FLAT 30% off end of season sale that Hopscotch has going on.