To anyone who grew up in Pakistan, we have seen different kinds of torturous acts on animals. In the grand scheme of politics, human rights, and social conflicts, these animals have never been given much importance to. Very few people think of their rights or their emotions. Animal cruelty is all too prevalent.
The harsh reality is that while we may be witness to animal cruelty on a daily basis there are only a handful of actual cases being addressed or documented.
Only a few people and organizations are seen advocating for animal rights; the fact that the laws still remain outdated and there is a general indifference in peoples' attitudes towards animal welfare.
And then there are cruel 'customs' and 'traditions' such as fights between animals including roosters, dogs etc.
Also, abusing them in the name of protests and so-called political rivalries is also an unfortunate practice. 
Donkeys, especially, suffer on a day-to-day basis. From the heavy load that they have to carry, the constant beating that they have to sustain and the abuse they face during protests.
Another recent act of horrendous animal cruelty has surfaced, where yet again the animal so commonly known as the beast of burden has been tortured brutally.
According to the ACF, a donkey was beaten brutally – punched in the face and abdomen several times, nose broken, kicked all over his body with rope marks here – and there and was found helpless by a young man named Abdullah.
The donkey was brought in the ACF at 3 am in the morning and they coordinated his rescue all night.
This hate crime was directed towards a political party – considering the whole unit an "ass," as written all over the poor donkey's body.
The names were blurred out by the ACF since they didn't want to be involved in the political mess.
According to the post shared by ACF a while back, these are his injuries:
"The donkey has multiple wounds, all fresh from the beatings, punches, and kicks he endured. The wound near his rear was an old abscess which burst probably when he collapsed. His nostrils have been ripped apart and his face was bleeding from all the wounds."
Here's the complete post:
With the upcoming elections looming upon us, no one is spared from the wrath of this time…not even the most helpless of animals. This is a hate crime. A #donkey beaten to pulp, punched in the face and abdomen several times, nose broken, kicked all ove.. https://t.co/OIKM2oRSuu pic.twitter.com/it2Fgct9DT

— ACF Animal Rescue (@ACFAnimalRescue) July 16, 2018
Ever since their post was shared, a lot of Pakistanis have taken to social media to express their disgust at this act.
Armeena Khan, for instance, spoke up about it.
If you hurt children, the elderly and poor, defenceless animals then you are a sick/disgusting individual and shouldn't be allowed into civil society. Babies and animals can't tell you that it hurts or where it hurts. 😔😔 💔💔

— Armeena Khan (@ArmeenaRK) July 16, 2018
And thanked ACF for saving the donkey.
Thank you for saving this poor, defenceless baby. You guys are angels #stopanimalabuse 😞😞 https://t.co/DIGRl8zndA

— Armeena Khan (@ArmeenaRK) July 16, 2018
Others also weighed in on this disgusting act.
Strongly condemn this violence .
By no means, any1 should be allowed to abuse animals and direct their anger to poor souls .
Honestly, this is very shameful, whoever did this, have some shame..
Appreciate your good work ACF animal rescue team.#TLP#ProphetﷺFirstNotPoliticians

— M J ~ (@eeM_Je) July 16, 2018
Waqai. Inhi logon ka zehen itni neech or ghatiya harkat ka soch sakta hay. Jo Election mein apni maan tak ko istamaal kar saktay hein unkay liay ye kaam to koi mushkil baat hay hee nahi

— Omer Rashid Sodhi (@OmerSodhi) July 16, 2018
People's disgust knows no bounds. 
Pakistan, what is wrong with us? Sab baatein chorro, i'm reeling in shock and anger.

This donkey was beaten, tortured by Pakistanis who put names of certain politicians and proceeded to beat it as mockery. ACF rescued it.

This is who we have become. Jinnah's worst nightmare. pic.twitter.com/N10NoiYPXA

— Tony Khan (@anthonypermal) July 16, 2018
Whoever did this are sick bastards

— Faisal Sherjan (@fsherjan) July 16, 2018
However, people also thanked ACF.
Well done guys…who ever is taking care of this poor animal..

— Shuja Ul Mulk (@Shujaulmulk) July 16, 2018
The video was shared by Innocent Pets Shelter Welfare Society:
Request to all political parties and its supporters.Don't use innocent animals for your motives.This poor animal was used by a political rally to show hatred towards a political leader by writing its name on it, in which this poor soul was badly injured and was left to face its miserable fate.It was rescued late night in dreadful condition.We are terribly failing humanity as a nation! Nothing will change until we change.#Ashamed

Gepostet von Innocent Pets Shelter Welfare Society am Sonntag, 15. Juli 2018
This is not the first time that such an act has taken place.
'Gadha', the Urdu word for donkey, is considered a form of abuse, which is the reason why many protests feature donkeys as a reference to rival political figures or other targets. The creatures are often beaten, spray painted and led through crowds for long hours.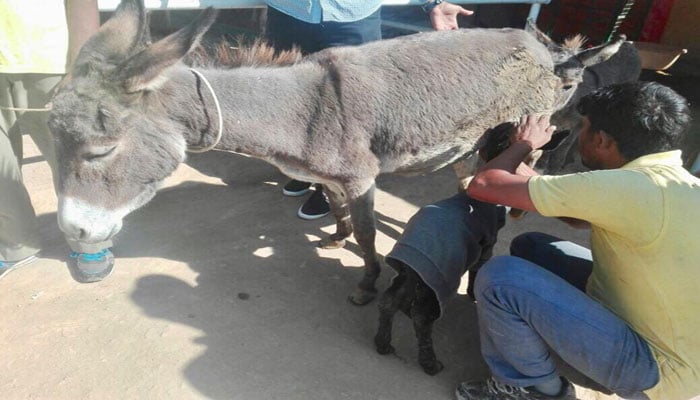 bill suggested that the fine currently imposed for animal cruelty be increased by folds so people stop such abusive acts. But unfortunately, no part of the bill passed has been implemented.
That is the sad irony of our country. Bills, laws, and statements are passed but not implemented. They stay locked in the rooms and written on papers in closed books never to be opened and read.
It is heart-breaking to see the brutality and inhumane acts that we as a nation have come down to. Humans have no right to decide whose life is more important. We cannot for a second think that our superiority gives us the ticket to torture animals. We are not as important or indispensable as we think we are, and it is time to let go of our ego and show a bit of empathy.
---
Cover image via ACF Animal Rescue/Facebook