Who doesn't love weekends? The two days of absolute bliss when one doesn't have to drag themselves out of bed and can stay in for as long as they want. The smell of fresh desi parathay is something every Pakistani craves for all week, and every weekend as you wake up that delicious fragrance, you know you're going to have a good day ahead.
However, many of us are not always so lucky. Here are some weekend woes that we all dread and hate:
1. When you have so much of ghar ka kaam
If you're a clean freak then there is no escaping this. Your help will make sure to pile up enough work for you get through the weekend. Makes you questions your life's choices.
2. When your elder siblings drop their kids for you to babysit
You love your nephews and nieces but it's not fair when they make you cancel your plans to accommodate theirs.
3. When mother decides it's time you learn to cook
All plans to binge watch TV shows are crushed. The day starts from peeling onions and ends on struggling to digest unsavory food you cooked with your own hands.
Source: ARY
4. When ghar walay hand you a giant to-do list
The older you get, the more responsibilities they keep adding to your list. Eventually Sunday mornings are spent in workshops for car repairs or driving gharwalas around town.
5. When gas shortage sabotages your long weekend shower
Summers are meant for frequent long showers but in winters your relationship with water is that of a cat.
6. When your relatives decide to crash your paradise for the whole weekend
Don't you just love those relatives who always find a way to annoy you to your core? Even when you don't visit them, they refuse to take the hint and would crash your place on every other weekend.
7. When weekend weddings crush your soul 
Even when there is no will to move. They make you dress up, wear uncomfortable shoes and smile at a gazillion people. Sometimes they push you to become an evil plotting person
Source: Khabees Orat
8. When your boss decides that it's a working weekend
True story *cries a river* .
Source: Someecards
9. When you have to host a huge family dinner
No one wants to spend the day preparing food and cleaning but family is important so you suck it up and just do it.
Remind me again why relatives are important?
10. When you work in a job where even a Sunday is not a holiday
Here is to all those brave souls who bring us news and updates.
11. When you're a student and you have exams starting on Monday
12. When you're studying to become a doctor or an engineer
The loads of hard work means there are no weekends.
14. When your social life is out of hands
It's difficult to divide two days by the number of friends and groups you need to hangout with. This includes countless birthday surprises, weddings, hangouts, festivals etc.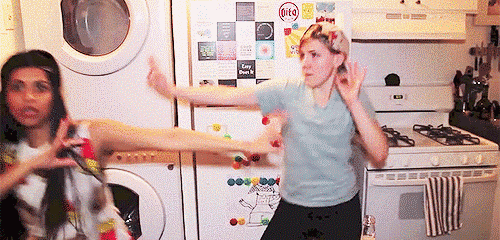 Source: Buzzfeed
15. When Friday is miraculously off and instead of an extended weekend, Saturday is a working day in between
Source: Someecards
16. When you have to choose between relaxing and partying
And that decision exhausts you enough to ruin your weekend.
17. When you realize that after every Sunday there is a Monday
Sunday night anxiety is a real phenomena. It consumes your Sunday evenings, so in reality, you only get 1.5 days of stress free time. That too only if you're lucky.
Regardless of how painful in it is to not laze around, some weekends are just meant for bigger things. Hold in there, your fun weekend might just be around the corner.
Cover Image via: afsusa.org
Did you relate to this struggle? Then you'll definitely enjoy some of these too: