Strong, fierce, relentless and a force majeure, Sharmeen Obaid Chinoy is one of the few activists that have used film by not only taking on a bold subject matter but turning it into gold. However, much like Malala, Sharmeen has been criticized by certain factions in her own home country, using all-too familiar notions like U.S. agent, propaganda monger etc. to taint her reputation.
Some have deemed her unfit to represent Pakistan as she seemingly projects a negative image of Pakistan.
But did you know about her five-part series "I Heart Karachi" that shows the extraordinary feats of ordinary superheroes of Karachi?
"Abid Farooq, bomb disposal squad in-charge of the West zone, has been in service since 1998. The West zone, which includes Orangi, Baldia, Maripur, Kemari and Gadap Town, has the highest number of response calls for bomb and post blast inspections."
The short films highlighted ordinary individuals doing everything in their capacity to help out those in need.
"Dr. Seemin Jamali, head of emergency at JPMC, has been in service for the last 22 years."
The protagonists consisted of emergency ward personnel, firefighters, bomb disposal squad, polio workers and journalists striving to ignite a glimmer of hope in Karachi.
"Zafar Ahmed, a firefighter at the Central Fire Brigade, fought his first fire in 2007 after the assassination of Benazir Bhutto."
Despite being severely injured on duty, Zafar Ahmed continues to serve and protect others. Here's his story:
[fbvideo link="https://www.facebook.com/socfilms/videos/1298268666856228/?pnref=story" width="500″ height="400″ onlyvideo="1″]
These unsung heroes deserve mad respect.
"In his 23 years of experience, Shahid Anjum, a crime reporter at Abb Takk News, has survived three bomb blasts while bringing important news to our television screens."
Doesn't look like all that negative now, does it?
"Naseem Akhtar, mother of three, was a lady health worker who conducted polio drives in some of the most high-risk areas of Karachi. She was tragically killed in a domestic violence incident a few months after the filming of this documentary."
Other than the "I Heart Karachi" series, Sharmeen along with SOC Films has also worked on "Humaira – The Game Changer"
Source: SOC Films
Humaira Bachal is an activist and educationist who champions young girls of Muwach Goth in Karachi by establishing Dream Foundation Trust which has been working on the basic needs of people. Nicknamed the Dream Catcher, she managed to educate over 1200 students at the nominal fee of 1 rupee per day.
SOC series "Chime for Change" narrated stories about inspirational girls representing Pakistan and pursuing their dreams
"Fatima's dream is to be a scientist"
Pakistani girls were encouraged to dream big and work hard to turn those dreams into an active reality
"Simrah's dream is to be a swimmer."
Future professional athletes, scientists, lawyers, singers and diplomats – take note.
"Rose's dream is to be a singer."
"Aghaz-e-Safar" was a one-hour talk show with the central theme of social commentary and justice.
Fakhr-e-Alam hosted the show, aiming to accelerate a movement wherein the community was encouraged to talk about taboo issues like gun control and child abuse in order to come up with workable, long lasting and applicable solutions.
Another venture, "Song of Lahore" delved into stories of Pakistani's greats in classical music, keeping the heritage alive in their prose and percussion. 
Through the solemn belief in the power of film, this visual treat aimed to appreciate music that has been threatened by the era of militant Islam and civil decay. The film was appreciated profusely at the Tribeca Film Festival in New York.
With Academy Awards and an Emmy under her belt, Sharmeen Obaid-Chinoy along with SOC Films has continued to work on socially powered investigative visual content.
Her documentaries and films make for groundbreaking film-making, be it following the lives of suicide bombers in Taliban cells or Ho Yakeen that follows Dost Foundation battling drug addiction. The Production House aims to groom a new band of directors, producers and writers that push boundaries just the same.
Ab aap bhi #MisaalBanein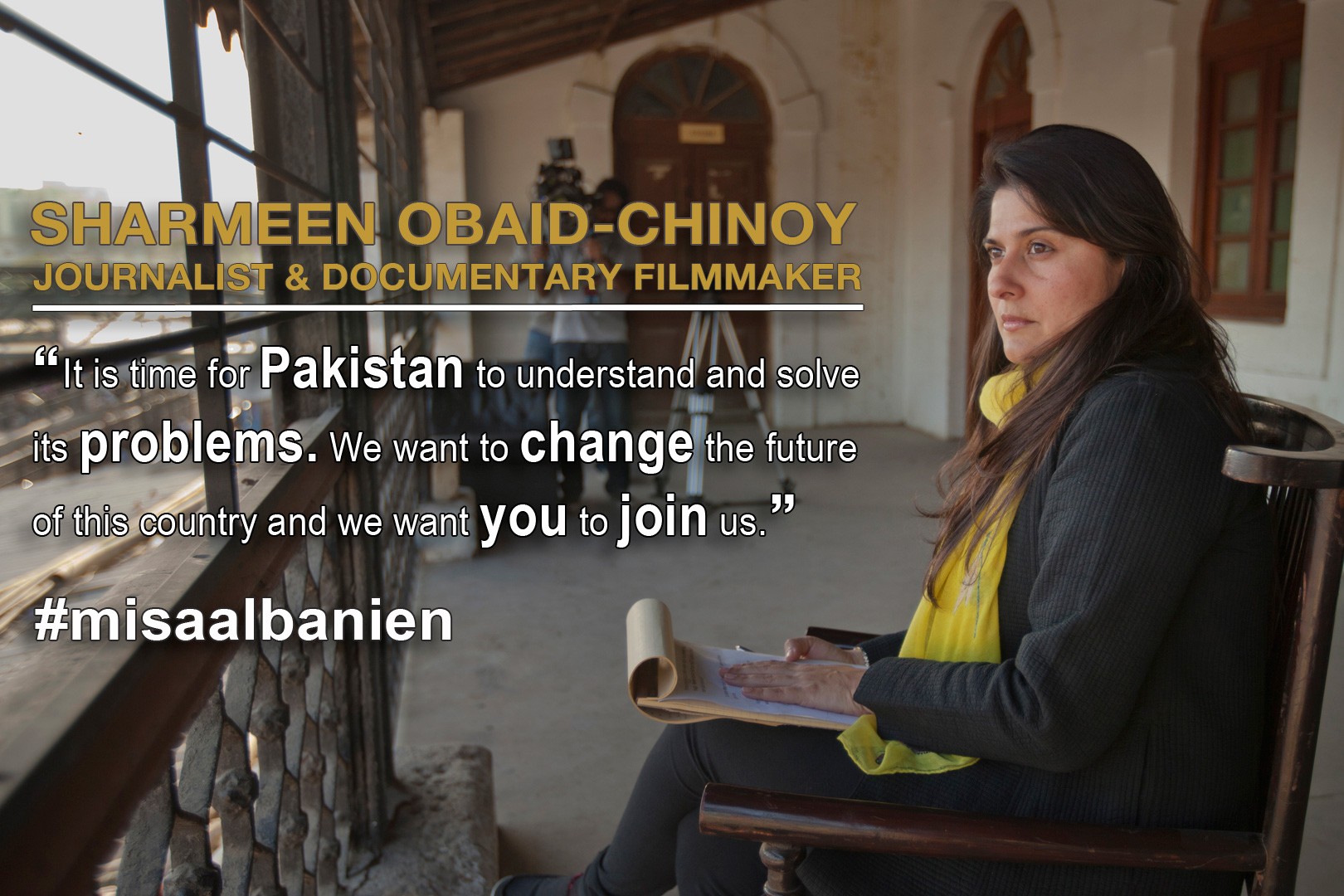 Sirf tanqeed bohat asaan hai, aap bhi misaal banein. More power to Sharmeen and to the amazing heroes she has continued to highlight through her work, who, despite the negative society that they live in, have been continuing to do their brilliant work to help others selflessly.
Cover Image via: Showbizpak
---
Zarra yeh bhee check karein: