Mothers are the closest thing in life to superheroes. Seriously. Especially Pakistani mothers. Look at all the work that your ammi does without ever asking for anything more than a smile on your face, in return. They are you personal bodyguards, your biggest critics, your chefs, your maids, your best friends and all around cheerleader.
Here are just some of the many, many things that ammis do that you should be thankful to them for:
1. Attempting to stuff you with as much food as is humanely possible.
Whether this is giving you money for the canteen wala, packing your lunch, or calling you every day to remind you to eat, ammis can't bear the thought of your empty stomach. A skipped breakfast is very nearly the end of the world.  They absolutely love making your favourite foods for you and they do a secret dance every time you take a second serving of food they've cooked. But be warned, do not compliment anyone else's cooking in front of them. Remember, every Pakistani mother makes the best biryani in the world.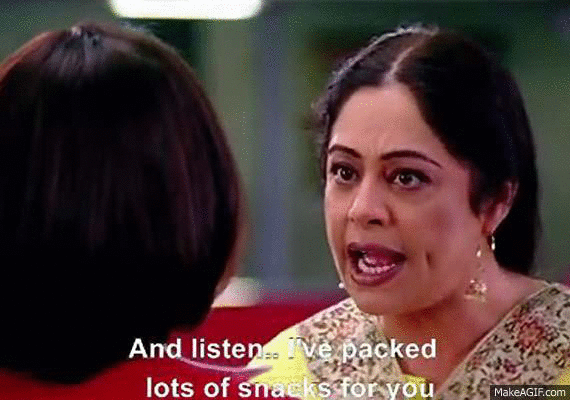 Source
2. Staying up till you're home
It doesn't matter whether you're 18 or 28, your ammi won't sleep until she has seen you safe at home. Or called to check to make sure you got home okay. No matter what time of the night, you know someone is thinking about you and waiting to make sure you're safe.
Doesn't matter what time it is, you know she'll be up.
3. Boasting about you in front of friends and family
It doesn't matter how small your achievement is, they'll act like you just got elected the Prime Minister of Pakistan. Without even joining a political party that people dislike.
4. Coochie pooching you
Sometimes you just need to be pampered and fussed over and you know your ammi is the number one person for this.
5. Looking out for what's best for you
Regardless of whether you agree or not, your ammi is always on the look out for what's best for you. Like the Telenor Companion Watch that keeps every ammi aware of the safety of her child. With just a click of a button, you can reach your child and talk to them in case you fear they may be in trouble.
6. Calling out nosy relatives
They can criticize you to your face all day, but God forbid anyone else dare to say anything even slightly negative about you within your ammi's hearing, it will awaken the mother bear in her and she will flay the culprit alive.
7. Giving birth to you
This literally needs to be the only entry on this list. Watch a video of a woman in labour and stare at your mother in awe as you realize what a badass she is.
8. Raising you up to be a functioning human being
This covers everything from cleaning your butt to managing to get a spoon full of food successfully from your plate to your mouth.
9. Looking after you when you're sick
Yes, she'll lecture you the entire time about how it's all your fault because she told you to wear socks and take an extra sweater and how irresponsible could you possibly be? But she is making you your favourite soup (or some yakhnee) and checking your temperature and making sure you're comfortable at the same time.
Tab hero nahin banna tha na.  Khanso ab. Aur khanso. 
10. Finding everything you lose
This is seriously a super power and only ammis have it. Everything you lose, she can locate it under 5 minutes, never mind that you've been looking for it for hours.
11. They always know what you've been up to
It doesn't matter if you smoked three days ago and have showered twice since then, she will know. Maybe they've already been using the Companion Watch…
12. Giving you a reality check
Whether it's a new outfit or your overpowering body odor, they will make sure you see things like they really are. Never mind if she steps all over your feelings in the process.
Too much baisti.
13. They give you invaluable advice
Important stuff that nobody else will bother telling you.
Isiliye kehte hain ammi ki baat sunna karein.
This article is sponsored by Telenor Companion Watch, an innovative wearable product with state of the art technology features. This product will address the needs of parents when it comes to child security and staying connected with them.
Click here to learn more.
Cover Image via: HUM TV
---
Zarra ye bhee check karein: