There are two names that come to mind when thinking about the Pakistan fashion industry; Sabeeka Imam and Hasnain Lehri.
Sabeeka is the walking talking example of grace.
While Hasnian is just such a suave gentleman. 
Well, these two powerhouses might just make one of Pakistan's most good-looking couples, because guess what, they're together
The rumor mill was abuzz with news of their relationship for a while now. Suspicion rose when Sabeeka's brother got married in Dubai, and pictures of the two models were all over the internet
Or when both Hasnain and Sabeeka were in Venice at the same time.
They both sneakily posted single pictures of themselves, never alluding to them being together
They're both just SOOO good looking
People were over the moon at the news of the models getting together
Like the typical gossip lovers that we are, people are asking them "shaadi kab hai"
Actually, bachon tak baat gayi thi 
I don't know how the world is still intact with such a 'drop dead sexy' couple walking around it 
Even actress, Ayeza Khan, couldn't believe the news
Hasnain himself commented and clearly, these two are just perfect together
'I get butterflies every time I see you' 
Excuse me while we go faint, because, HOW IS HE SO PERFECT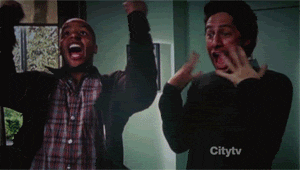 In all seriousness though, we wish you both all the happiness in the world
Hum sadkay jayen.