By now, we're all well aware of the fact that Reham Khan is pretty livid that her unpublished book's manuscript got leaked online. It's supposed to contain vivid details from her life. Suffice to say, it's kind of a big deal.
However, as events unfolded, the Twitterverse was set ablaze. The public seems divided on the issue but everyone definitely has something to say.
For instance, this person is reminding Reham of less desolate times.
Once upon a time….#RehamOnPMLNAgenda pic.twitter.com/kSDFR4yGAI

— Soraya Aziz (@SorayaAziz) June 2, 2018
And this person has a very, very anti-IK stance.
Why youthias think Reham Khan wrote smthing abt Imran Khan wch cn b bad for his reputation (not dat he already has a good reputation anyways).
Its bcz they know Khan is a fuckboy who hs been an asshole to women in his life. They dont want Reham to talk abt it.#RehamOnPMLNAgenda

— mAKei (@Andromeda_JY) June 2, 2018
But the storm took an interesting turn once the opinion-in-chief of desi Twitter, Hamza Ali Abbasi decided to join in. He chimed in with a brief summary of the manuscript.
Had a very unfortunate experience of reading a manuscript of Reham Khans book. Here is the summary: IK is the most evil man to walk the face of this planet. Reham is the most pious righteous (Tahajjud guzaar) woman ever and Shehbaz Sharif is an amazing guy! #RehamOnPMLNAgenda

— Hamza Ali Abbasi (@iamhamzaabbasi) June 1, 2018
Things escalated at a rapid pace from there. Obviously, Reham responded. 
Hamza Abbasi claims he has read manuscript when it's not been published? Only possible through fraud or theft.

— Reham Khan (@RehamKhan1) June 2, 2018
And she came out with all guns blazing.
Hamza has been emailing me threats since August 2017.
Bullies trying to silence me

— Reham Khan (@RehamKhan1) June 2, 2018
Reham even went onto upload certain allegedly received emails.
Only one email by one PTI member.
Bully me more I will publish all one by one! pic.twitter.com/E5Y5b5yPzU

— Reham Khan (@RehamKhan1) June 2, 2018
While Hamza Ali Abbasi wasted no time to refute the accusations, claiming that the emails were fake.
#RehamOnPMLNAgenda Uploading fake emails now? I have never operated this email iamhamzabbasi@gmail.com…. I guess it takes some intellect to lie properly. Reham bibi, dont go down this dirty road, you know what your actual emails to me are and ur emails to Ahsan Iqbal & others. pic.twitter.com/aOVwuCDhLZ

— Hamza Ali Abbasi (@iamhamzaabbasi) June 2, 2018
Since this is a developing story and the fact that the book itself has not even been published yet, means that there is much more drama to come in this episode. Kinda makes you amazed at how much free publicity the book is getting, though.
After all, no publicity is bad publicity … right?
A big thank you to the biggest SM mafia for promoting my book for free on twitter yesterday.?

— Reham Khan (@RehamKhan1) June 2, 2018
It seems like humare hum watan are starting to take sides, too. People are responding to both Reham and Hamza in different ways.
There are those who don't seem to be on Hamza's side…
They need to hire fake documents composer with better spellings
Please jo bhe hai meri Mam ka name to theek likho ….
It's Reham Khan not kham
"(Khan) from the epiglottis" pic.twitter.com/pQGf15LEdT

— Bilal Azmat (@BilalAzmat7) June 2, 2018
These exhanges are classic washing of dirty laundry — a lot of free publicity for Reham's upcoming book. But email hacking? Thats a grave crime with international implications. Political gameshow is trumping everything in the country. pic.twitter.com/gxAGKYmz5X

— Syed Talat Hussain (@TalatHussain12) June 2, 2018
…and are apparently helping Reham decode the mysterious way in which her manuscript was leaked.
This might explain how they got my manuscript… https://t.co/NwXimq0BZQ

— Reham Khan (@RehamKhan1) June 2, 2018
And then, there are those who don't seem to be siding with Reham.
So why did you not go to courts against IK instead of writing book ??

— Ahmed Raza (@KingAhmedRaza) June 2, 2018
On one side u r saying yes yes show if u have anything and on the other side threatening for legal action?

— Muhammad Irfan (@irfanameen33) June 2, 2018
It's…pretty chaotic at the moment.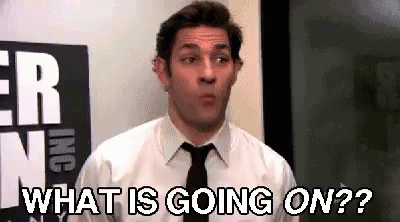 Finally, do let us know what do you think about this entire ordeal. Humein bhi samjha dein ke ho kya raha hai. Please. Thanks. Let us know in the comments.
---