Ranbir Kapoor and his relationships have made headlines for ages. His first, and most talked about affair was with Deepika Padukone.
The pair started dating in 2007 but broke up in 2009. 
This was followed soon by his relationship with Katrina Kaif. 
The couple started dating in 2010, and this relationship lasted a good 6 years. Many believed that they would get married. It was reported in 2014 that Ranbir and Katrina moved in together and that in 2015 they would get engaged. However, it came as a shock to most when the couple called it quits and broke up in early 2016.
His most recent relationship is with Alia Bhatt. 
This relationship took Bollywood by storm, however, it seems the couple is still going strong. Alia has stood by Ranbir during a tough personal time, as his father fought serious illness.
At a recent event, Ranbir was asked if he follows anyone secretly on Instagram. His answer was one of the most relatable ever.
He revealed that he follows Alia Bhatt (aww), Deepika, Ranveer, and Katrina Kaif. Damn, that is quite the list. Ranbir doesn't have an official Instagram, so he's doing all of this through a 'finsta' (fake Insta).
Now before you roll your eyes at this, just admit this to yourself- we've all been there. We've followed an ex or that crush we never went up to. Sometimes it's not even following them, but just visiting their Facebook profile, you know, just to see what they're up to. We've either done or at least thought about it, but soon enough get over it as well.
It is also important to remember that Ranbir's status as a gossip queen and as someone who's always in the know is no secret. Karina said in an interview with Arbaaz Khan that she knows that Ranbir has a fake Instagram account. Moreover, Kareena Kapoor has also mentioned on many occasions that she has a Whatsapp group with Ranbir Kapoor and others, where they spill the tea about all of Bollywood's latest happenings.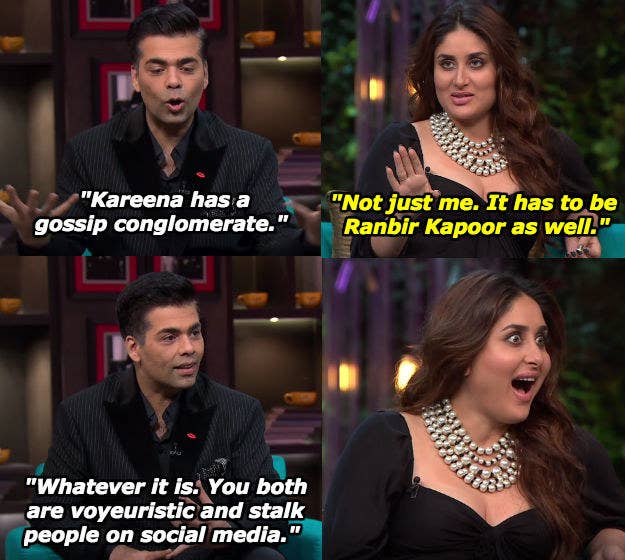 Ranbir has a good relationship with all his exes. 
He's worked with Deepika on 2 films after their break up, and he's worked on one with Katrina as well. Moreover, Deepika and Katrina have maintained good relationships with Ranbir's current bae, Alia.
This whole discussion opens a can of worms about who all else has fake Instagram accounts and who all they're following. What do you think? Let us know in the comments 🙂
---
 Cover Photo Courtesy: indiatoday.in and bollywoodhungama.com