As we all know, around November, parts of Punjab were immersed under a thick layer of smog. It was a definite cause of alarm for many and social media went absolutely insane in the aftermath.
The toxic clouds of Lahore#smog pic.twitter.com/Re9lf2E26h

— Mohsin Haleem (@MohsinHaleem21) October 31, 2017
Some also shared facts, hoping they could make people more aware of the situation.
Lahore you're killing me! #smog #airpollution pic.twitter.com/2xRl7y0oCy

— Waqar Ghani (@_waqarghani) October 30, 2017
We tried to step in with some helpful information, too. We talked about how the residents of Punjab could hope to stay safe. But the deadly consequence of air pollution still wreaked its due course of havoc.
Recently, Twitter user Malik Amin Aslam, shared a piece of news that stated that the deadly smog caused around 60,000 deaths.
November #smog in #Lahore caused 60000 deaths – now a major cause for brain damage – disastrous development mode needs change #GreenCharter pic.twitter.com/HnhAa9fyAY

— Malik Amin Aslam (@aminattock) December 18, 2017
Here's the entire newspaper clipping for your viewing: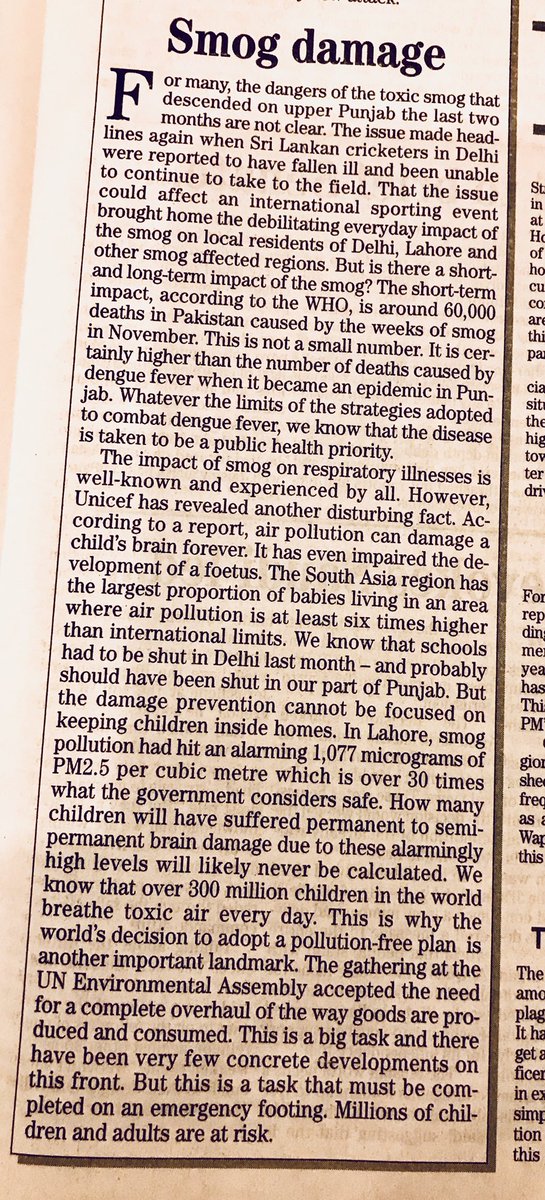 60,000. Let that number sink in.
Now, we had some reservations about the legitimacy of the tweet. We've often seen pieces of news circulating that may not entirely be true. And we weren't the only ones who wanted to be sure of this.
People asked Mr. Malik about where the piece of news was from…
Which paper is this Amin bhy?

— Rana Fahad (@amranafahad) December 18, 2017
…to which he promptly replied.
News

— Malik Amin Aslam (@aminattock) December 18, 2017
A quick search led us to the actual article from The News that gave out the exact same information. Here's what the article stated:
"The short-term impact, according to the WHO, is around 60,000 deaths in Pakistan caused by the weeks of smog in November. This is not a small number. It is certainly higher than the number of deaths caused by dengue fever when it became an epidemic in Punjab."
60,000 people dead.
That, too, due to something that has a lot to do with human activities that cause air pollution. Kinda makes you wonder if we're responsible for those 60,000 deaths in any way, no? Regardless, it's a shamefully high number. And Mr. Malik's tweet left many people shaken to their cores.
One user in particular talked about how she felt terrified to breathe:
do u know how terrified i am to breathe here and everyone is unconcerned cause we cant physically see the smog anymore

— eman (@emanjafri) December 20, 2017
She was also clearly angry at the entire situation.
do u know how many times people from karachi say lahore's air so much cleaner! asthma patients would be cured here! like with all due respect uncle u can choke on ur air polluting business cause my symbicort is the only thing saving me

— eman (@emanjafri) December 20, 2017
Losing more people to this environmental disaster than to a dengue epidemic is downright alarming. More than anything else, it's a wake-up call.
We've taken our planet and Nature for granted for way too long. This time around, it's clear as day that we're the only ones who will suffer and are suffering. It all comes down to when it's our turn. As depressing as those statements sound, they're constant reminders that we absolutely must stop all human activities that damage our environment. There may just be the slightest chance that it's not too late – at least for the ones who remain.
What do you think about this? Let us know in the comments.
---
For more stories that will help you become aware of the world around you, subscribe to Wajood on Facebook.