Parents start saving for their daughter's wedding almost as soon as the ultrasound comes in. With entrenched customs like the giving of jahaiz and spending ridiculous amounts on the wedding event, getting married has become a huge, unnecessary drain on our expenses, to the point where some people even put it off until they can afford it.
Here are 13 things people tell the bride and what you can do about them:
1. 'Bees pachis toh kaam walay joray honay he chahiye hain.'
Most of which you will end up not even wearing before fashions change or your size changes. You realistically don't need more than 5.
2. 'Ab har suit kay saath matching jooti bhi toh honi chahiye.'
You could make do with black, silver and gold. You really Really don't need the leopard print, and the purple and the studded and the block heel.
3. 'Har waqt tyaar raha kerna.'
Firstly, don't buy any makeup you don't already know how to use. You're getting married, not trying to master the art of disguise. Keep it simple and stick to things that you know you use. Stocking up on all the naked pallets is not a good idea if you can't even tell the colors apart.
4. 'Aap kitnay tolay zaivar day rahay hain?'
If your parents want to give you some sort of financial security (the usual justification for the horrendous amounts spent on gold jewellery) ask them to buy you savings certificates for that amount instead. Instead of having it rot away in a basement locker somewhere, you could invest it.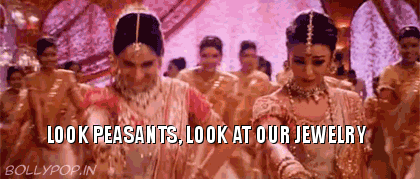 5. 'Stage toh bara mehnga lagta hai.'
When it comes to stages, your wildest guess won't even come close. Who spends 80 lakh on a glorified sofa set?? 25,000 barely gets you a low seat with no back support.
6. 'Itnay thoray logon ko bulaya hai. Biryani bhi pheeki thi.'
Weddings should only consist of close relatives and friends. No, it does not mean you're ashamed of the marriage, and no it doesn't mean you're insulting anyone either. Keep it small and intimate. Your chachi's bahu's in-laws should definitely not be invited.
7. Photographer toh sirf Tapu Javeri hi hona chahiye.
There are more than enough photographers available now, and a lot of them are at an equal standard. When we dish out the dough for Irfan Ahson, its just his name we're paying for, and not an extraordinary leap in the quality of the pictures we get.
8. Aur make up toh khud Mussarat Misbah se karvana hai bas.
Mariam Khwaja has recently pushed up her rates to 1 lakh for one day. And she is still fully booked. Think about that. Its far too much money for something you're going to be washing down the drain at the end of the day.
9. Jora ho toh Banto Kazmi ka varna na hi ho.
The absolute cheapest any designer will make your wedding dress is for 3 lakhs. We get that you're getting married, it's not your coronation. You'll do just fine in a non-designer dress too.
10. Honeymoon ke liye hum ne World Tour book karvaya hai.
Go to one place and relax. Don't try and fit a world tour into ten days. You will spend your time running from flight to flight and annoyed at all the constant packing/unpacking.
11. Humara card nahi mila aap ko? Aap ka kabootar kahin aur na chala gaya ho.
Feathers? Jemstones? Whats wrong with simple wedding cards?
12. Nabila se seven day massage kara rahi hun mein.
The second a girl gets her date fixed she starts obsessing over her skin, her hair, her weight, and spends ridiculous amounts on expensive treatments which parlor waalis insist they absolutely have to have. Ignore it, and relax. The best treatment is to just be happy, not stress out and to keep everything from your food to your treatments as natural as possible.
13. Jahaiz mein Porsche chalay gi?
Instead of filling paiti upon paiti with household items, just invest whatever you feel you want to give your daughter out of your own will. Most of the stuff doesn't get used, but worse than that, it continues an age old practice which we should be trying to stamp out instead of propagating.
Zero. You're worth zero dowry.
At the end of the day, its about two people getting married and their friends and family coming together to celebrate that fact. What it definitely is not, is a fashion show, a way to display your wealth and a competition. So think about it. Wisely.
---
Cover image via: eshowbizbuzz.com