Girls endure all kinds of pain in their life that men(most of them, anyway) never get to experience in their life , and it's time that girls be appreciated for surviving through all kinds of painful ordeal that they are subjected to.
Here are the kinds of pain only a girl can understand:
1. The pain of waxing
You dread that time when it arrives, when gone is your soft baby skin, replaced with the skin of a caveman. Every strip hurts just as much as the rest and despite what men might think, you never get used to the pain. You just learn not to make a big deal out of it. But what you get afterwards, a land of cotton candy and petals, it is so worth the pain.
2. Plucking and threading
You wait it out, but this one is inevitable, your beautiful lady like face turns into an angry caveman yet again and you know, that you can no longer run away from it. Those bushy eyebrows and mustache needs to go. For some, this one hurts even more than waxing. And its the best feeling ever when its over, until next time…
3. Getting burnt while cooking or baking because the men of your home don't even step in the kitchen
When you play with fire, it's only natural to get burned.
4. Getting stung by the bleach used in facials
You achieve this flawless complexion not without pain, the bleach stings you like little bees but you bear with it, waiting for a miracle to happen in the end, the miracle that never really lasts long.
5. Nose and ear piercing
You would think those stunning earrings and cute nose pins are rocked without a price? For some girls the piercing even gets inflamed and swollen with lots of pain and it takes its time.
Also see: 18 Legit Reasons Why Nose Piercings Are Tacky and You Shouldn't Ever Get Them
6. Getting burnt by a straightener or a curler
In times like these you wonder if short hair's the best solution to deal with less hassle of "managing" your mane.
Sometimes you're so deep into your thoughts that you accidentally try to straighten or curl your own finger or ear, the sudden scream and shooting pain is not fun at all.
7. Walking in heels
You don't realize how bad it is, until you get home and remove your heels and get welcomed by a mixed feeling of pain and relief.
8. Brushing tangled hair or God-forbids, curly hair
The struggle is real.
9. Undoing a parlor hairdo
10. Mascara wand poking your eyeballs
Also see: 25 Struggles Only Pakistani Girls Who Wear Makeup Will Understand
11. The headache that follows a tight pony tail
12. The parlor waali pulling, tugging, plucking or going a little too far than she should
13. The pain of seeing the men do things so freely that you only wish you could
Or you know there's the option of being as "free" as you see girls in movies being when you take a trip or move abroad.
14. The pain of having to deal with toxic masculinity
15. And of course, "THE" pain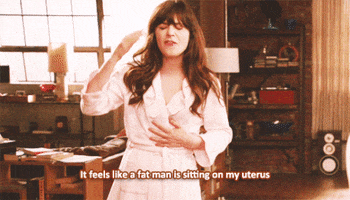 It's definitely not easy being a girl.
---
Cover image via: Six Sigma Plus