Hate her ALL you want, you gotta admit one thing – Malala Yousafzai is an unstoppable powerhouse. Time and again, she's proven to be the face of reform in the world. Rising against the odds, Malala isn't just a university-going student anymore. She's a symbol of hope and power.
When she's not busy chilling with celebrities…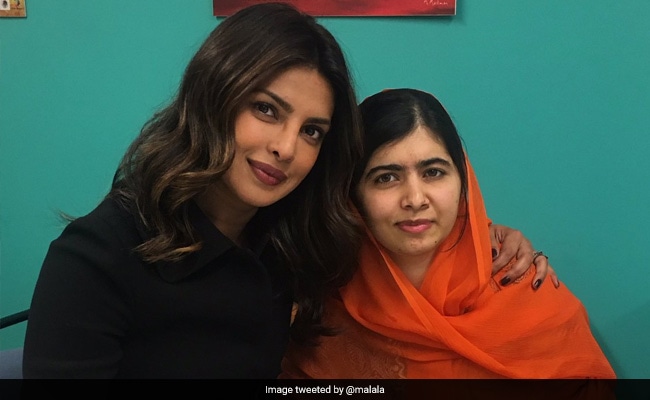 …or making a difference in the lives of young girls…
…OR partnering with freakin' Apple, of all companies…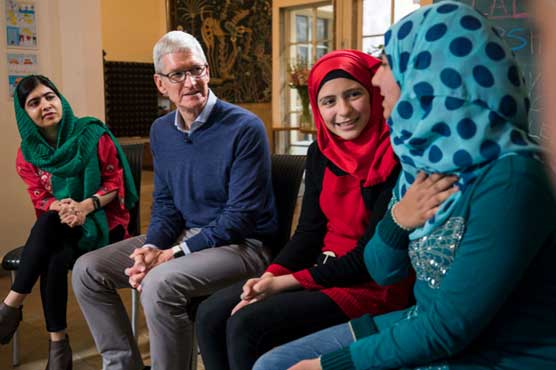 …she's busy giving some AMAZING speeches. 
Malala in Davos: We need to teach boys to be men https://t.co/xSQ88Y7bLe pic.twitter.com/tNaDqmyzeE

— World Economic Forum (@Davos) January 25, 2018
Malala attended the World Economic Forum held in Davos recently.
She spoke about numerous things at the event. Speaking on current issues in the West, like the #MeToo or Time's up movements, she encouraged women to keep speaking up. Moreover, she highlighted how women can no longer rely on men to fight their battles.
Here's a statement by Malala from the event:
"First we wanted men to do something for us but that time has gone now. We are not going to ask men to change the world. We are going to do it ourselves. We are going to stand up for ourselves and we are going to raise our voices and we are going to change the world. I really encourage any women or girls to speak out against any discrimination and any violence that they see in their community and in their society"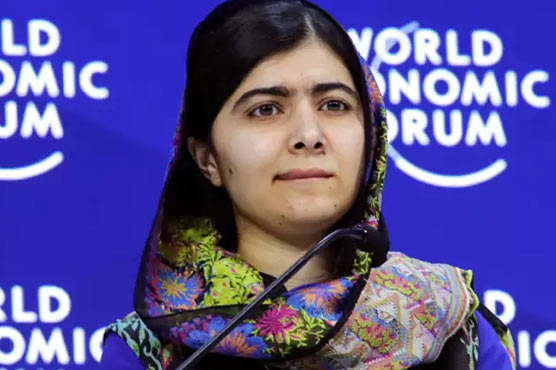 You'd think that's it, right? Inspiring enough? But no, here's where it gets GLORIOUS.
Malala didn't just speak up for women. She also spoke up against men who hold back women. And what better example is there of the same than the current President (I know, still don't buy it) of The United States – Donald Trump.
Here's what she had to say about Trump bhai:
"I get so disappointed to see that people in these high positions openly talk against women, do not accept women as equals, they harass women. It is just shocking to think that it is happening. I hope that women stand up and speak out against it. I hope that people who are involved in such shameful things think about their own daughters, their own mothers, their own close female relations, and just imagine for a second, could they let it happen to them. I don't think they would accept that."
Malala's speech has spread like wildfire. It's EVERYWHERE. 
.@Malala just put men in their place. https://t.co/X2gbjjC2hv

— Global Citizen (@GlblCtzn) January 25, 2018
"We won't ask men to change the world, we're going to do it ourselves," said Malala Yousafzai at the World Economic Forum in Davos #WEF2018

https://t.co/Sy9aiG61YZ pic.twitter.com/9N1BxHXYJc

— AFP news agency (@AFP) January 25, 2018
In fact, humarey fav Trudeau bhai ne bhi unki tareef ki hai. 
This morning at #WEF18 in Davos, I joined @Malala, Fabiola Gianotti, and Orit Gadiesh for a panel discussion on the importance of education in empowering women & girls. pic.twitter.com/Z2dLVBuUWZ

— Justin Trudeau (@JustinTrudeau) January 25, 2018
Even people back home are saluting her bravery.
The brilliant and brave @Malala speaking #WEF2018 still credits everyone with accepting equality for women. After the price she has paid for speaking out and surviving it, I salute this young girl's humanity for betting on hope https://t.co/2R0NpgVR1y

— SenatorSherryRehman (@sherryrehman) January 26, 2018
Khair, here's a video of Malala Yousafzai being awesome and making Pakistan proud. 
Can education save the world? Malala Yousafzai and Justin Trudeau discuss. @justintrudeau, @MalalaFund https://t.co/nexdlwmDbv

— World Economic Forum (@Davos) January 25, 2018
And to all the naysayers who still think Malala is yahoodi saazish, yeh lo:
Malala is out there meeting and cracking jokes with Stephen Fry over going to Oxford, at the Apple initiative for free education for women, but Amjad from Mianwali thinks his calling her a sellout, a traitor and a kaafir will affect her or the world. Delusion is amazing.

— petty af (@absurdite_) January 25, 2018
Let us know what you guys think in the comments below.
And if you want to stay updated with more similar stories, follow Wajood on Facebook.
---
Cover image: @AFP/Twitter