Anyone who's ever been on a journey through air knows how airports are the worst part of it all.
Sure, you may be scared of flying and get really freaked out about turbulence but the horror of waiting at the luggage carousels with what seems like millions of grumpy passengers fighting for a bag which eventually turns out to be no one's is much more scary than a little bumpy ride, right?
Navigating ever changing luggage rules and toting huge bags if you're an over-packing desi is a completely new level of ordeal on top of everything.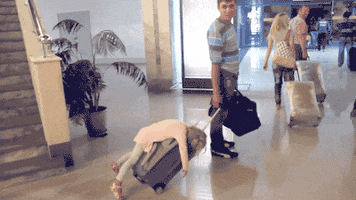 Not to forget the notorious problems on PIA flights.
It's prevalent on international flights too, let alone the domestic ones.
#PIA's Ac was kharab throughout the entire flight. Air hostess to passenger , it's the same as when you are home and there's no electricity

— Sanaa (@SanaaRiz) May 24, 2016
Add to that how Pakistani airports are rather dull and dreary, with overworked workers and over-suspecting customs officials and you've got a recipe for a perfectly foul mood after every trip to through the airports.
Well, we've got something else for you to not look forward to if you're traveling in the near future.
If you're the kind of person who likes to treat their bags with love and care, or if you've packed something rather precious in your luggage you will definitely not like what you're about to see.
If you've lost a bunch of your favorite luggage tags too, like the scribe, you'll definitely have daggers in your eyes.
So this is how the airport officials at the Allama Iqbal International Airport in Lahore were caught by one passenger.
Hassan Omer, who captured this, might we say incriminating video, says, "While I was watching this when one of these guys said chuk k sut samaan…. then he saw me and said araam naal oye araam naal".
If there's anyone out there with any idea on how we can prevent our bags being manhandled so brutally, we'd love to hear your opinions in the comments below.
For more interesting videos, subscribe to the MangoBaaz channel on YouTube.
Cover Image via: History of PIA
---
Zarra ye bhee check karein: