Every Pakistani is familiar with the high standards of service (or lack thereof) provided by our infamous national carrier, Pakistan International Airlines. Whether we were personally victimized by the not-so-great people to fly with or not, PIA has had its fair share of embarrassing moments.
Here's a list of the times PIA let you down:
1. High standards of safety.
Only on #PIA ? Polythene helping keep the exit door shut! Lol! #pakistan #onlyinpakistan #karachi #dubai #ohgodno #… pic.twitter.com/U48fQOCrqu

— Image Pakistan (@ImageOfPakistan) January 10, 2016
2. Triggering existentialism.
That awkward moment when PIA issues boarding passes with seat numbers that don't exist on the plane. #onlyinpakistan

— Kya Bakwaas (@kyabukwaas) August 18, 2015
3. A rather sticky situation.
Samad Bond shuda seat handle on #PIA #onlyinPakistan pic.twitter.com/l4OlNji4Nb

— MademoiselleSmirnoff (@LifeofSigh) May 28, 2013
4. When the captain's problem solving skills were too damn high.
In a PIA flight, the captain lets two passengers sit in the toilet for lack of space in the plane. #OnlyinPakistan I love my Pakistan :)))

— Marvi Sirmed (@marvisirmed) February 14, 2012
5. Expectation.
6. Reality.
#PIA serving Fungus Food to their passengers. Higher authorities should take immediate notice #Pakistan @Karachiet pic.twitter.com/Xl7XlETFd3

— Syed Azhar Ali (@AzharAli_90) April 27, 2015
7. Gastronomical pleasure, no less. *Pukes*
8. Time travelling skills are strong with this one.
@AirportPakistan can you please explain manufacturing date of Jan 2016 showing in Dec 2015? #PIA. @Official_PIA pic.twitter.com/htGPZxEX1y

— ːGraceːWalkː (@siwelylla) December 30, 2015
9. Some very enterprising men.
PIA Water Cups used in private wedding at Peshawar. #pia @Official_PIA @AirportPakistan @shujaatazeem pic.twitter.com/CUpJgvot6z

— Imran Khan (@imikhan1) December 29, 2015
10. This episode of ordinary citizens taking matters into their own hands.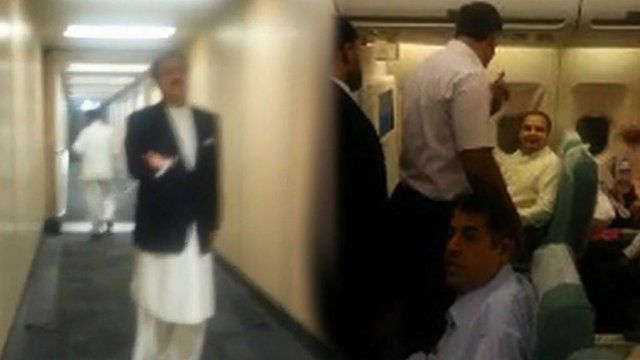 Source: BBC
#SayNoToVIPCulture
11. This poor man who couldn't rest his arm next to a 'namehram'.
12. When there was a feline emergency.
13. When delays caused tempers to rise
14. When they ran a flight without turning on the air conditioning
"Airline, darwaza khol ke uraani hai kiya?"
15. But let's just agree that Jemima won the internet by gracefully trolling PIA.
My lad is home #PIA (known locally as Please It Arrive or Please Inform Allah) pic.twitter.com/anyFhzJXH8

— Jemima Goldsmith (@Jemima_Khan) January 5, 2016