The minister for Defence Mr. Khawaja Asif shocked the National Assembly today when he called Shireen Mazari a 'Tractor Trolley'. He also called her 'Aunty' and asked her to 'fix her voice'. Tsk tsk Khawaja Sahab, koi sharam hoti hai, koi haya hoti hai?
The reaction online to this was spectacular.
This person went ballistic over Khawaja sahab's character
Person who habitually attack women and charity hospitals is known as Khawaja Asif..

— Sara. (@sarahaque90) June 8, 2016
Roza scandals emerged
I m assuming khawaja asif ka roza nahin tha.

— Bee Nish (@Be3sBuzz) June 8, 2016
And *ahem* interesting comparisons were drawn
Expecting decency from Khawaja Asif is like expecting a prostitute preaching Islam. He is truly a foul mouthed Darbari. #NA110 #BabyMaryam

— Xarius Ali (@XariusAli) June 8, 2016
The past was brought up
One line for Khawaja Asif:
"Koi sharm hoti hai. Koi haya hoti hai!"

— Kiran (@KiranW_) June 8, 2016
This person decided to play the name calling game too
Khawaja Asif shame on you …. Old man #ShutUpRangBaaz

— Dyńåmìç✨Personality (@emma_zoe10) June 8, 2016
And people generally forgot all forms of decency by stooping to the level of the words they were criticizing
@KhawajaMAsif khawaja asif looks like hyppo he should be shamed he talks bull shit

— Iffy (@iffy_82) June 8, 2016
Much was said about Khawaja sahab's position as a Minister of the Federal Government
A shamefull act, Khawaja Asif should be banned of parliament. #KhawajaAsif

— SaadFarooq (@saadfarooqkhann) June 8, 2016
What Khawaja Asif said reflects on his brought up. A shame on all of us to have such a guy as a federal minister (public servant)

— Faraz (@RudeRemovall) June 8, 2016
It is a shame that we have people like Khawaja Asif who are sitting in parliament and use derogatory words against women.

— Jaffer Abbas Mirza (@jafferamirza) June 8, 2016
This does make us wonder how many of these righteous men are the same ones shaming others for being "femi-nazis"?
This is what Shireen Mazari had to say on the matter
Told Kh Asif if he had any "sharm or haya" he wld know how to deal with women but he was besharam & behaya! Luckily my voice louder than his

— Shireen Mazari (@ShireenMazari1) June 8, 2016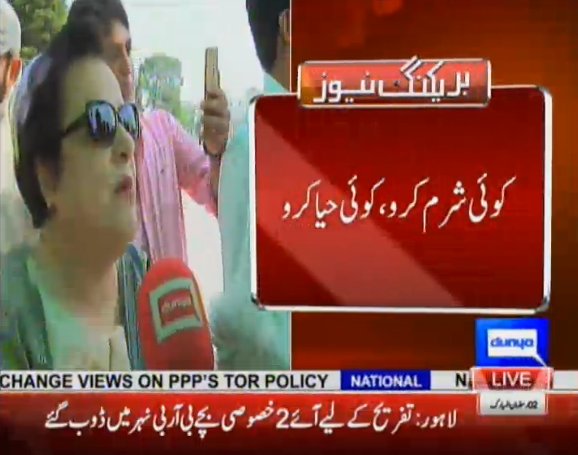 Do you think Khawaja Asif crossed a line and needs to apologize for his words?
---
Zarra ye bhee check karein: