At one point even I started to doubt whether I had seen something… 
I lay over the covers just staring at the wall in front of me, waiting to fall asleep.
But I couldn't, no matter what I tried; counting sheep or backward from a hundred. I still lay wide awake, bored out of my mind. And, as was usual before the time of smartphones, my only entertainment was provided by the wall in front of me which had shadows of the leaves which were rustling outside.
Minutes trickled by as my 7-year-old mind thought of anything and everything it could to alleviate boredom. All of a sudden, a shadow appeared on the wall in front of me. It was the silhouette of a woman. It appeared as if out of nowhere, as if the entity had apparated. I could see the silhouette of her side and could tell that she had thick curly hair.
The foot of the bed was right next to the wall the shadow had appeared on.
Suddenly, very slowly, almost as if she was limping, the shadow began moving so that it was getting closer to where my feet were. I was frozen. My sister was asleep next to me and being paralyzed with fear, I couldn't even wake her up.
All I could do was tightly close my eyes and start reciting all the prayers I knew inside my head. After a while, I must have drifted off to sleep because the next thing I remember is waking up and immediately looking towards the wall I had seen the shadow on. But everything looked normal…
Of course, I told everyone what I had seen and refused to sleep in that room again.
But no one believed me.
I was a 7-year-old kid with a very active imagination. All the adults shrugged it off but I was relentless. Everyone assumed I had merely seen one of the servants who lived in the quarters taking a stroll in the garden in the middle of the night.
I insisted this was not the case. There were only two female servants and I had already asked both of them if they had been walking in the garden the night before and they both said no. And besides, their physique and hair did not match the one I had seen.
They became curious as to why I was making this peculiar inquiry and I told them.
The older maid looked at me with a knowing look and said she believed me. My grandparents have a pretty big house which is unoccupied, save for one room. She told me about how she cleaned all the unoccupied rooms once every few weeks. And every time she would unlock the doors to certain rooms, she would notice that the beds had clearly been slept in even though she knew for a fact no one had entered the room since she had last cleaned it.
Apart from her, no one really believed me.
Fast forward a few years later when my nani was alone in the house and saw from the corner of her eye that someone was standing behind her. She turned around and caught a glimpse of a young girl running away. She thought it was the maid's daughter. She was confused about why she had run into the formal drawing room and followed her. She turned on the lights and saw that there was no one there.
There was only one entrance to the room and nani was standing by it.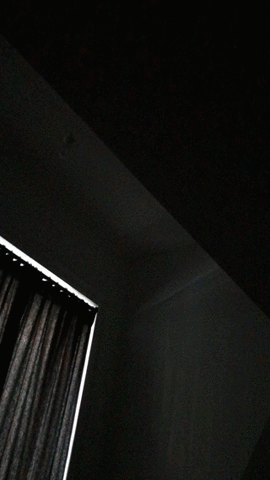 My grandparents then contacted a relative who was well-versed in the world of the supernatural and they were told that their house was indeed haunted by a family of jinns. They then started connecting the dots and realized all the strange things that happened around the house could probably be explained with this.
Things like my grandmother's phone going missing from her dressing table and appearing on the table in her clinic. Or the fact that the house and car keys would never be in the place they were left in.
My nani and nana finally had an explanation for all of this.
When I heard the news I was ecstatic and had my 'I TOLD YOU SO' moment, followed by intense dread at the thought of visiting my grandparent's house. But the issue was dealt with and my grandparents, being religious, weren't even phased.
Now the family of jinns is only allowed to haunt the storeroom at the back of the property and are not allowed to enter the house. What a comforting thought.
But ever since then, we haven't experienced any paranormal activity at my grandparents' house. Have you ever experienced paranormal activity firsthand? Let us know in the comments below.
---
Cover image via trevillion.com