So a not so happy Holi then?
Today marks the official Spring festival of the Hindu Community, Holi.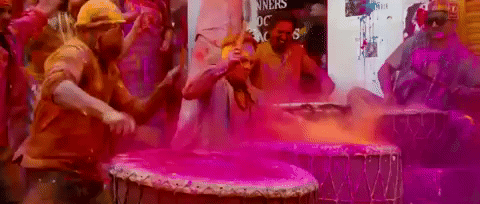 Otherwise known as the festival of colour, Holi is a two-day event full of celebration to welcome the spring season. Those who celebrate run around with their family and friends, splashing them with coloured dye and water.
Being Pakistanis, we know all too well what Holi is thanks to movies, media and TV shows showing us what our neighbours on the other side of the border are up to on this beautiful day.
And even though tensions between India and Pakistan are STILL annoyingly high, Holi is a day to celebrate the onset of Spring for a large population of the world, right now. And in a kind gesture towards the Hindu community in Pakistan, our Prime Minister, Immy Khan had a few sweet words to say as well.
Prime Minister Imran Khan just wished the Hindu community a very 'Happy Holi,'
Wishing our Hindu community a very happy and peaceful Holi, the festival of colours.

— Imran Khan (@ImranKhanPTI) March 20, 2019
But lol, they aren't too happy about it.
Holi is celebrated all over the world and though of course it was originated in India, Hindus everywhere celebrate the festive day, including the Hindu community that lives within Pakistan. Though it may be a minority, it is still within the borders of our country and Immy was just doing his best to acknowledge them and their culture.
Understandably, however, some individuals are not happy with his statement. Presumably, no one on this side of the border really wants to hear Modi wish us an Eid Mubarak. And given that anti-Pakistan sentiment is in full force right now in India right now, we really shouldn't be expecting anything else.
Only 10-12 Hindus are left in Pakistan … you could have DM them directly

— 💂 Rishi Bagree 🇮🇳 (@rishibagree) March 20, 2019
Mr Imran Khan….wishes only for YOUR hindu community??
Trust you to find ways and means to get India Pak acrimony even on the days of a festival. Have some shame sir and hand over perpetrators of terror attacks on India and pls keep ur bigoted views to yourself.

BTW HAPPY HOLI.

— 🇮🇳Jay Sanan🇮🇳 (@JaySanan16) March 20, 2019
Yeah I mean, yeah. They're pissed about it.
No, he should tag all of them, sothat they also removed from PAK ASAP

— Satyendra Kumar (@ExAapiya) March 20, 2019
Imran khan first Stop playing Holi with blood of our soldiers, then wish us. #PulwamaAttack. https://t.co/vS6QQO8rmo

— Manoj Pandey (@PManoj222) March 20, 2019
BUT! That does not mean to say that people within Pakistan and in India are appreciating Immy's words of kindness.
They also call it the festival of love, ya know.
They are not our Hindu 'community'. They are our Hindu brothers. Hope to see you celebrate with them.

— Asad Ali (@cr8ve) March 20, 2019
He will be our prime minister for next 24 years so don't worry he wish us on next Eids☺️. Today, Let's celebrate Holi 🤩

— Rana Kashif (@RanaKashifA) March 20, 2019
Happy & peaceful Holi to our Hindu Community in Pakistan & All Around the world, spread Love & peace through the colours.

— Ihtisham ul Haq (@iihtishamm) March 20, 2019
Happy Holi My Dear 3.6m Hindu Brothers and Sisters ♥️ pic.twitter.com/VqNCVJio21

— Muحammad Riزwan (@RiAmmad) March 20, 2019
Thank you @ImranKhanPTI

— KILTAR GUL (@GULKILTAR) March 20, 2019
Following the complete insanity that followed after the tragic incident in Pulwama last month, it is more crucial than ever that Pakistan and India do what they can to fix this shitty situation. And even though campaigning tactics may be setting in and even though 'Indians hate Pakistanis' and 'Pakistanis hate Indians,' Holi marks the festival of a new season.
It was honourable and mature of Imran to wish the Hindu community a happy Holi. His leadership since the horrific incident has been encouraging to Pakistanis from all over the world who have been hoping and praying for a 'Naya Pakistan.' And apart from being a leader to a 'Naya' Pakistan, this is the kind of thing that should be expected by leaders from all over the world.
Perhaps the Prime Ministers of both India and Pakistan can use this day of change to bring about a change of their own to each other in dealing with the situation at hand.
Have you seen Imran's tweet? What do you think about it? Let us know in the comments below.
---
Cover photo source: Wikipedia/Visit Tri-Valley