Not being able to attend the Aurat March has been giving me serious FOMO since Thursday. Seeing all the beautiful and badass ladies (and even male allies, I see you all!) preparing for the Marches, sharing their posters with incredible and witty messages on social media, made me wish I could be a part of the March as well. God, give me a chance to flex my art skills on a colorful poster for a righteous cause.
Alas, your girl is an incredibly busy post-graduate student working two jobs (one of them being this) and couldn't miss her classes due to strict attendance policies.
Honestly to think universities, especially all-girls ones, could cut classes short just for a day and avail their transportation services to take their students to the March; be an active part of a revolutionary change and all. It would have been the biggest "women supporting women" flex for the city.
Khair, wanting to physically be present at an event for a cause so close to your heart, but being unable to, really makes one feel like they're not true advocates of it. As if our circumstances somehow make us less a part of the change even though we have little to no control over them. Isn't that literally how A LOT of people feel?
But guess what, that notion is completely wrong. If you're unable to actively participate in the community or public (note how I mean "CAN'T" not "WON'T") it doesn't mean you can't still show your support or passively participate in the cause. Here are some ways you can do so:
Make your support known through social media
Most of the time, showing your support can be done through as simple a means as posting a comment. We know haters (in GENERAL, not just anti-feminists please chill) avail this opportunity to the maximum, forever making it known how we deserve to have all sorts of atrocities for going against a certain set of norms (cyber bullying helpline: 0800-39393).
So why not do the same thing but on a more positive note? Make your opinion known (nothing hateful okay) in comments or posts, and don't be afraid of a debate sparking up there. If you have a strong base and logic, nothing can stop you from shutting the rest up. Besides, if things get ugly, the cyber helpline's always there!
Write blog posts and create some kickass art
Hey hey! A little elaboration from writing comments or posts; I'm talking about articles or pieces like this one, if you're good at it. I know actions speak louder than words, but when you can't get in with the action, words will have to do! Plus it'll help develop your writing skills and give you some exposure on the media platform.
Same case with drawing. If art's your thing then bring out the pencils, paint and paper! Revolutionary movements could do with a bit of color anyway; colorful words for the patriarchy too.
Implement a feminist outlook into your daily routine
Before anyone loses it here, I don't mean "khaana khud garam karlo" (not that there's anything wrong with that) or any kind of radical theories your brain's probably concocting right now. What I mean is, for both men and women, to minimize criticism and derogatory remarks for other women; whether it be a picture on social media or even this March.
Instead of criticizing it, try to respect it. Help out the women in your house: your mum, sisters, even the maids as much as you can. Uplift your fellow women at work instead of trying to downgrade their efforts. Be as proud of their successes and achievements as your own. I repeat, this applies to both men and women. It's what it's all about, right? Equality and respect.
Promise and work on being the best version of yourself
Again, applies to BOTH women and men. The latter can obviously work on being respectful towards women and not treat them like they're inferior and incapable of doing great things. Treat women with the same level of respect that you expect from the world.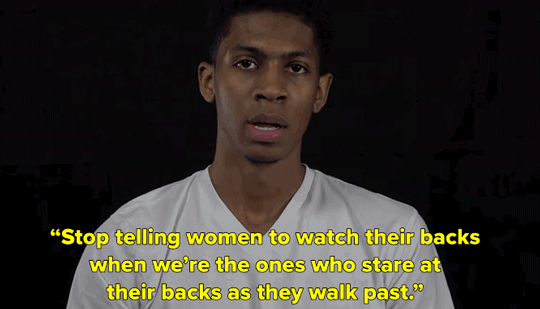 As for women, don't tear your sisters down. Help them grow, put crowns on each other's heads. Listen. Empathize. Do your best and help others do their best too. This may seem like basic level stuff, but that's where it all starts from.
As for Aurat March, it's already making history. I'm upset I couldn't participate, but next time around, I'll see you all there.
---