With election season looming all over Pakistan, everyone is coming out and about their political preferences. Political candidates have been shifting their loyalties and surges of groups of people have been leaving and joining new political parties. We can all pretty much tell who is voting for who…
So much so that even one of the most famous superheroes from the Marvel Universe, Deadpool has come out in support of one of largest political parties of Pakistan … Pakistan People's Party.
So, deadpool is a PPP supporter now ???
Cc: @VancityReynolds #deadpool  #PPP #deadpool2 #PakistanPeoplesParty #PakistanGeneralElection2018 pic.twitter.com/UtGXDsdTSM

— MangoBaaz (@mangobaaz) May 30, 2018
Lmaaaaaooo. And much needed support for the PPP, at that.
Considering that the party has not been getting a lot of love in recent elections and has been sidelined from the mainstream political debates with PML N and PTI stealing all the limelight.
But let's not forget the rich history of one of the most resilient political party of Pakistan which simply refuses to go away. And probably won't anytime soon. So now with Deadpool joining the fraternity as a certified 'Jiyala' the question to ask is whether this the spark PPP needed?
Either way, it surely seems to be winning people over.
There's a video on Facebook of 'Deadpool' dancing to 'Dila Teer Bija' in front of a PPP flag. You've got to love Pakistani Facebook/ Twitter

— Arslan Athar (@ArslanArsuArsi) May 29, 2018
It has us questioning, was this legit a PR move?
@BBhuttoZardari Sword seh pehle, iske baare meh tu socha hota… ?https://t.co/1N1KdCL9e9

— Alia Chughtai (@AliaChughtai) May 29, 2018
People seem to already be pledging their votes.
And are certainly considering him to be more competent than most of the political options we currently have.
It has us wondering what the real Deadpool may be thinking of the stunt as well.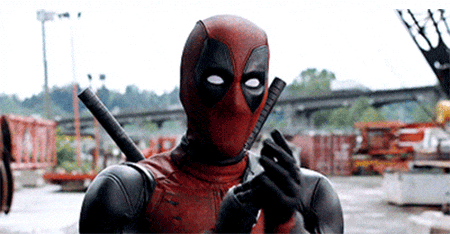 Also here's hoping for a random Ryan Reynolds spotting. Hey, a fan can dream, no?
Finally, I guess it's fair to say that with the election season here, we can expect many shenanigans like this, to keep entertained by. Let us know in the comments below, which superheroes you would like to see endorsing which political party and why you think they'd be a good match.