It's with immense sadness that we reach the end of Coke Studio season 10. It's had its highs and lows, its ups and downs, its hits and misses. But it's given us some amazing, spellbinding music, as well. From tributes to legends like Nusrat Fateh Ali Khan sahab, Faiz Ahmed Faiz, Mehdi Hassan, and Madam Noor Jehan to introducing younger talent like Zaw Ali, Danyal Zafar and Aima Baig.
This season's finale, however, left us all a little broken, smiling and heavy-hearted While it was also one of the most highly awaited songs of the season, it was also one that left people in a mess.
Ali Zafar, Ali Hamza, Bilal Maqsood and Faisal Kapadia together gave us so much joy and a little heartbreak with their tribute to Junaid Jamshed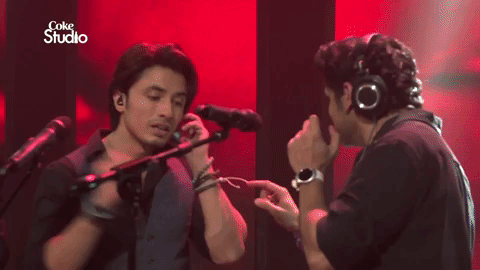 The Alis led the song and led us onto what was going to be possibly 6 of the best minutes of our lives.
They got together and sang Us Rah Par which is possibly one of the most beautiful Junaid Jamshed songs to ever have existed Us Rah Par is a song that a lot of us have had heavy associations with, growing up.
Bilal and Faisal share a very long history with JJ and the band, and it was only befitting that they were paid tribute to the legend, himself As they mention in the Behind The Scenes of the video: when they were a very young band, they went to watch Vital Signs perform, and Junaid acknowledged them on stage. Moreover, when Strings parted ways, it was JJ who kept forcing them to keep making music, to become whole, again. With Bilal having directed the original video for Us Rah Par, his presence in the song holds all the more meaning to it
The song is meant to be a celebration and commemoration of Junaid Jamshed's life And Jaffer Zaidi's music direction did just that. There wasn't much done with the tempo of the song, which kept the essence of it all intact.
The way Ali Hamza and Ali Zafar added life to the song, took it to another level altogether The lyrics of the song speak of rebellion, they speak of love. The slight playfulness in the Alis' voices added so much to the overall feel of the song.
The song basically did an amazing job at taking everyone on a very bittersweet trip down memory lane And it was one that nobody regretted getting on
There was life in the vocals, an element of joy, and a whole lot of nostalgia The way the men took the song and sang it, taking us on a journey back to yesteryears
People also seemed to absolutely love this tribute to Junaid Jamshed
Signing off tonight 9pm. Thank you for the love. #Junaidjamshed. No one can ever be like you. #Alihamza #strings #usrahper #shoaibmansoor pic.twitter.com/4TB4bEZD0n

— Ali Zafar (@AliZafarsays) September 21, 2017
Some people were just as emotionally shook as we were
#UsRahPar brought a string of tears in my eyes. Junaid Jamshed will be missed @AliZafarsays well delivered @nooriworld & strings pic.twitter.com/wtRhGtH05w

— azim ikram zai (@quintocent) September 21, 2017
Others were hooked onto it all over again
Okay so i have a test tomorrow and I'm singing #UsRahPer ? @cokestudio ??

— Maha ?? ❤ (@MahaRasheed96) September 21, 2017
Some said what's on all our minds 'gone too soon…'
Beautiful and Emotional tribute to great JJ by #CokeStudio10 .JJ you gone too soon 🙁 RIP https://t.co/qJrM3TVgnA

— Abdul Ghaffar (@GhaffarDawnNews) September 21, 2017
Take a bow, indeed, men
Hum kyun chalain us rah par
Wonderful tribute to late JunaidJamshed by @cokestudio @AliZafarsays,ali hamza and strings take a bow #Finale

— Azlan Mahmood (@azlanmahmood1) September 21, 2017
Here's the song for you to listen to and bawl over
Let us know what you thought of this rendition of Us Rah Per in the comments, below.
---
This piece has been made in partnership with Coke Studio