When going to the gym in Pakistan, there are always a number of things that all of us expect to see. Everything from overexcited trainers to judging aunties, gyms here are full of characters right out of a movie.
Oh, and for men? There is certainly a category of its own that outlines all the different things men do when they go to the gym.
So let's take a look, shall we?
1.  People hogging the machines, dumbbells and all other gym equipment.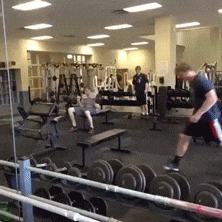 Like, okay. Share.
2. Men checking out their abs in the mirror. A little too much. It's good to be proud, but not…that…proud…
3. Men making *ahem* noises when using the machines.
Bhai, please. Just – please.
4. Sweaty people without deodorant.
You all know this is valid. Please. It's good to smell good.
5.  When other people stand and stare as you workout.
Circus nahi laga hua.
6. People who clearly are not qualified to give gym advice keep giving it to you.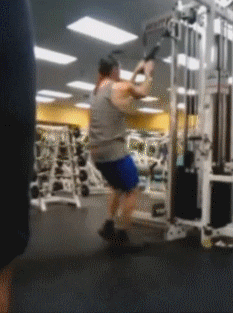 STOP.
7.  People who get a little lazy…while they're at the gym. If you're going to use the mat as your bed, please, ghar jaa keh so jao.
8.  People who increase the number of selfies WAY more than the number of weights. Sir jee, please – no, I don't want to take your picture while you lift. Thank you so much.
9. LEG. DAY. VICTIMS. Ugh, becharay.
10. SUPER excited/helpful trainers.
SUPER. Excited. Really appreciate the help but please, my headphones are in for a reason.
Which brings us to our next point…
11. That one guy trying to talk to you when your headphones are in.
Bhai, headphones are in for a reason, I really don't need to know how much protein you have every morning.
12. The showoffs.
Yes, we get you're absolutely ripped, you don't need to shove it in our faces.
13. The one who can't stop talking about food. Ever.
Lol, me.
Did we miss anything you guys see/experience at the gym? Can you relate to any of this? Let us know in the comments below! Love you.