So recently, Atif Aslam apparently ended up singing one of his own Bollywood songs at an Independence Day Event in New York. According to ARY News, the attendees of the event got a little too carried away and hurled insults at the singer and left the event for singing the song 'Tera Hone Laga Hun' from the movie 'Ajab Prem Ki Ghazab Kahani'.
Some reports claimed that he refused to hold the beloved Pakistani flag at the event.
As expected, the singer faced an immense backlash from Pakistanis after the news went viral.
Some called for the boycott of the singer.
boycott Atif Aslam @itsaadee Ap Ne Dil Tor diya #boycottAtifAslam #AtifAslam#مشعل_راہ_گانے pic.twitter.com/dfgXYyGFOW

— Pakistani (@Pakistani09) August 7, 2018
Others refused to accept any apologies.
#AtifAslam shame for Pakistan. No apology on refusing to hold Pakistan's Flag on Pakistan Independence Day Parade in New York. Look at this Pakistani handicap how is he dancing with one leg. https://t.co/VWt9QCATx2

— khawar rizvi (@khawarmr) August 10, 2018
As per #sources #AtifAslam sung an #indian song on #JashnEAzadi celebrations #concert at #NY #America. There are also #rumors that he #hesitate holding & waving flag of #Pakistan. If so its very #stupid of him & very bad but let him #clear untill not #guilty Pakistan. pic.twitter.com/fFeijjx3QI

— umar ishaque butt (@capisces) August 7, 2018
Some fans were just disappointed.
Have heard Atif Aslam refused to hold the Pakistan flag! If true it is shameful indeed! Why wld he do such a senseless act? For commercial purposes? Disgusting! And I really liked his work too. But this act has destroyed it all.#AtifAslam #shameful

— نمرہ احمد (@Nimrah788) August 8, 2018
However, in a surprising turn of events, people who actually attended the event had different stories to tell. They denied the allegedly fake news altogether.
So this girl was present their at Atif Aslam's NYC concert and this is what she has to say. All the media channels spreading fake news against Atif, and all the farigh nd hateful awaam questioning Atif's patriotism👉 just go to hell. #AtifAslam #PrideOfPakistan pic.twitter.com/EN3Us5sV95

— عبدالله (@itsabdullah77) August 7, 2018
People stepped forward to defend the singer.
Come with proofs…… Then we will also claim about that. @arynewsud
We Feel proud on @itsaadee….#atifaslam pic.twitter.com/pSaoZzJXyc

— Atif Aslam (@magicofatif) August 8, 2018
Yikes…Seems like a huge blunder.
Soon, people started calling out ARY News for broadcasting allegedly false content.
These are the people who attended #AtifAslam 's concert at NYC @ARYNEWSOFFICIAL can u read English or I should elaborate?
Kya Ap Wahan Pe the ? No na than how u dare to telecaste fake news about my Atif. 😑 Why u don't die of shame!!!! 😑 Zaleel Media ! pic.twitter.com/3OodRnel3d

— Bestiee Ka Bday 🍭🎂 (@Fatima_Mallik) August 8, 2018
Some said it was just to attract attention.
some media channel jst need a headline to attract people ! and this is one kind of them….u people should proud of this person ! This man represent ur country ! Also i can feel a true patriot in him…..
love u #AtifAslam sir !
love from Bangladesh…

— Asfaqur Rahman Saik (@Saik680) August 7, 2018
Others said they're proud of Atif Aslam.
Atif Aslam is the proud of pakistan 🇵🇰 True Artist True Pakistani…so don't spread negativity against #Artists#AtifAslam pic.twitter.com/6xKaYvE9RR

— S O H A I B (@Deepthinker250) August 8, 2018
Some just supported the singer with facts.
It is okay if @itsaadee sings any of his songs in any of his event. Who are we to judge his patriotism? He has sung many songs for Army and Airforce, no one remembers that but yeah of course one song and he becomes anti-Pak. Applause for this mindset 👏🏻#AtifAslam #ProudPakistan

— Nayab* (@nayabwanttosay) August 8, 2018
There might be role of media behind defaming name of Atif aslam ,
He is truely a pakistani and has proved it several times,
Naadaan or amature log bus media pe bat suni or free fawaaen jaari.#AtifAslam

— فیروز احمد (@FerozMundrani) August 8, 2018
Especially since he was singing his own song.
Idk what kind of maniacs are criticising Atif for singing an Indian song at an Independence Parade.. I mean in the end he's the one who sung those song.. art is art and music is music… its not pakistani or indian.. Think Big Pakistanis #AtifAslam

— Laiba Ejaz (@laibaejaz1) August 8, 2018
Others shared videos.
Think before you speak

SHAME SHAME PAKISTANI MEDIA #boycottARY #AtifAslam #Aadeez #pakistan #pakistanimedia #shameshame #IStandWithAtifAslam pic.twitter.com/ZnJK2ZvUbe

— Ayesha Aadeez (@hamidayesha241) August 8, 2018
But then, in the light of all the trolling and "fake news", Atif Aslam himself responded in the nicest way possible.
He even shared this patriotic message:
"Sabz jhanda meri pehchan hai or mere fans jantay hain k mein iska ehtaram kerna achi tarah janta hun 
Mje bohat khushi aur fakhar hai k meray fans fake propaganda Ka jawab dena achi tarah Jantay hain .. I hope NAYE PAKISTAN main un sab logon ko izat dena jaan jayen gae jino ne PAKISTAN ka naam poori duniya mein roshan kia hai."
HAYEEEE!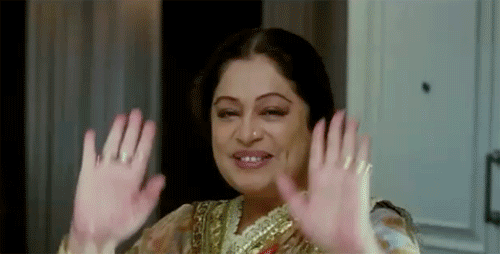 We're falling in love with him all over again. Aren't you? Share your thoughts with us in the comments.
---
Cover image via thenews.com.pk