Ramzan is around the corner. Long roza hours. No paani, no khaana, sakht garmi. We've gotta give ourselves some credit really. Just a week into it and you'll already feel like apki bus hogayi hai. Apart from the bhook, pyaas, garmi, there are some other things too that all of you keeping rozas will have in common this Ramazan. Here's the list:
1. Initially, you'll think that the whole month will be a piece of cake
You're all geared up! But hold your horses bro, it might just turn out to be a heavy roller coaster ride.
2. You'll suffer from the "not-looking-but-occasionally-sneaking" glance
Food? What food? No big deal, right?
3. Eventually, you'll wish you were a camel with not one, but two humps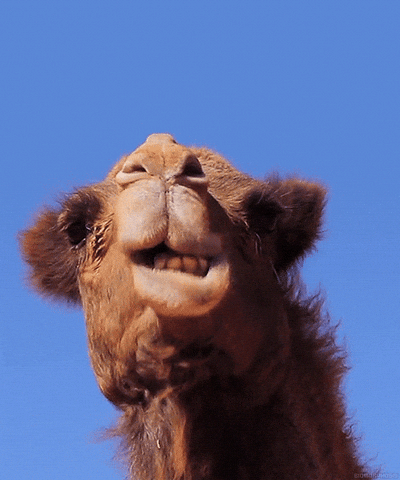 If only you could store that water for hours, if not weeks!
4. You'll probably drink more water than you have in a whole year!
Bus kerdo bhai, hosla rakho. 
5. You might slip up from time to time when you see a glass of water or smell some delicious food
I know. Happens to the best of us. It's not easy.
6. You'll struggle between sleeping and staying up before Sehri
Agar so gayay toh Sehri me utha nai jaye ga, Sehri miss hogayi toh Roza nai rakha jaye ga. Aisa kertay hain nai sotay.
*5 minutes later* Sleeping like a baby.
7. As Sehri ends, you'll be conflicted about that piece of khaana stuck in your teeth
Moving your tongue here and there and desperately trying to get rid of that little piece of anda or paratha or boti or bread or whatever you just had for Sehri stuck in one of your teeth is ALWAYS a struggle. You may even give up and use a toothpick, only to swallow it by mistake. And then you'll wonder whether or not your roza just broke.
8. For someone with a uterus, you might end up getting your period 10 minutes before Iftaari
*silent screams* That did not just happen. 
Yes, it just did. And now that roza doesn't count. Great.
9. You often wonder if you can use deodorant, given the garmi
It's honestly beneficial to everyone. Body odor bardasht ke bahir hai. 
10. You'll wonder if brushing your teeth during the day is allowed
Because that breath. Uff.
11. You keep thinking it's Iftaar time. 
Let's face it. The 17 hour stretch plays tricks on our minds.
12. You'll binge watch your favorite TV show…
Jis se aankhein laal hojaati hain. 
13. …and then feel guilty about it.
"I AM ON THE WRONG PATH!" – You, 99% of the time.
14. If you're going out, you'll be torn between buffet and á la carte
It's…a struggle, sure.
15. You'll keep trying to fix your routine
That koshish to get yourself a proper routine which involves less sleeping and more productivity is a pipe dream.
16. You'll stare at the plate of pakoray at the table minutes before the roza ends with the most shadeed chaahat. 
Words fail to explain how badly you want those pakoras. 
17. With regards to Iftaar, you'll only have one question:
Asking this for the hundredth time in a minute! Why won't the clock hands mooovee?
So, this is the basic gist of everything you'll experience during Ramazan. Have we missed out on anything unusual that happens to you every Ramazan? Share your story in the comments below.
---
Cover image via @mominamustehsan/Instagram