Ah, yes. Winter. What a wonderful time of the year…for residents of Lahore and Islamabad. Or any other city in Pakistan. Karachi ka toh alag hee haal hai. Because we feel your pain, we summarized all your collective thoughts. Here we go:
1. "Bas November aaney wala hai. Sardee time."
Yeah, keep waiting.
2. "Can't wait to wear my sardee ke kaprey."
There's a really concerning reason behind why you won't be able to wear your sardee ke kaprey, though.
3. "Wait, we're halfway through November. Garmi toh abhi bhi hai."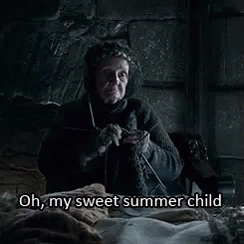 4. "Maybe I should move to Lahore during winters."
Okay, I have to break it to you. Moving won't help. Want to know why? A phenomenon called global warming, that's altering Pakistan's climate each passing day.
5. "Game of Thrones main bhi winter aa gaya hai. Karachi ka pata nahi."
While the Seven Kingdoms are a work of fiction, global warming and consequent climate change definitely aren't. This is evident through the increase in minimum and maximum temperatures recorded during summer and winter seasons in Pakistan.
6. "Guess I'll just pack my winter clothes."
Might as well. I mean, a 0.6 to 10ºC temperature rise has been observed in Pakistan's coastal areas. Which basically means us becharey Karachi walay. 
7. "Maybe I should wait until December?"
Nah. There's been an increase in solar radiation by 0.5 to 0.7% over the Southern half of Pakistan. (Yep, still us.) December ne aa ke kya badal dena hai?
8. "Waisay har saal yehi hota hai."
I hate it to break it to you, but while you're worried about just one aspect of global warming-induced climate change, there's another side to it that we're all overlooking. One that might not let us be around longer to complain about the lack of winter: rising sea levels.
9. "If I see another Snapchat of people frolicking in the snow, I'm deleting my account."
All that snow? It's melting ridiculously fast from its original source, leading to expansion of water bodies. Guess where Karachi is? Yep, next to a water body.
10. *Sees another Snapchat story with snow* "Aap toh seedha block list main jayein."
Can't block out the fact that sea level rose about 15 to 20 centimeters during the 20th Century – about 1.5 to 2.0 millimeters per year. And the fact that satellite measurements that have been taken predict that the rise has increased to 3.1 mm/year.
Oh, and the fact that a rise in sea level will only increase in the 21st century.
11. "Hmm, maybe global warming is real."
You're thinking this mazaaq main, and maybe even tweeting out jokes. But yaar, it's pretty real.
12. "I mean, there IS a lot of scientific evidence."
Yeah, like the fact that Pakistan is among those countries that are the most severely hit by climate change.
13. "Should I be reading up about it more?"
Well, yeah. And we're trying to help you read about it. Give it a shot.
14. Yaar, kya mazaaq hai. No, wait, today's actually a little more chilly."
Ever notice how we're ever so slightly baited by Karachi, fooled into thinking ke sardee aagayi hai?
15. "Is… is winter finally here?"
No, it's just slighly chilly.
16. "WINTER IS HERE."
Or what passes as winter in Karachi.
17. *Two weeks later* "Abhi toh thand ayi thi…And it's already gone. WTF?!"
This is when you really need to focus on the facts stated here. And realize how you play a part in contributing to global warming and climate change.
18. "Chalo, aglay saal dekhainge."
Are we really going to keep banking on this forever?
Yes, Karachi is a coastal city and is considerably warmer than other cities due to the same reason. Basic Geography hai,  I know. But all this research clearly indicates that larger, more powerful forces are at play. The next time you're wondering why Karachi is always warm, keep these facts in mind.
Do you think this piece helped in any way? Anything you'd like to add, except the usual gaalis and denouncement of the existence of global warming and climate change? Chalo, jo bhi hai, let us know in the comments below.
---
Cover image: Instagram/Ahad Raza Mir