Time and again, we come across individuals who prove that their disabilities do not define them. These individuals surpass obstacles with immense brevity and vigor. Consequently, they leave the rest of us awestruck and inspired.
To help bring to light the struggle of differently-abled individuals every year, we have something called International Day Of Persons With Disabilities.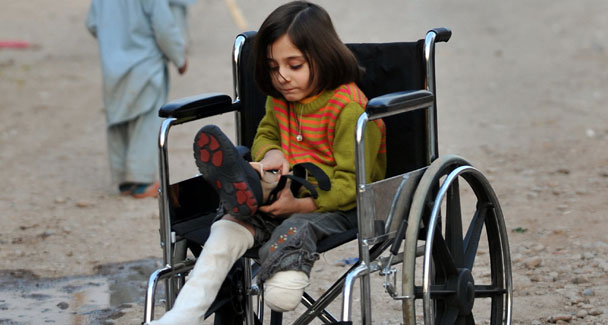 Its annual observance was announced in 1992 by the United Nations.
The idea behind it was to encourage people who are differently abled and to promote their rights. All this is done to ensure they don't face any form of ostracization or demoralization.
In the 1998 census, there were around 3.28 million people in Pakistan who suffered from some form of disability. 
Compared to Pakistan's population as a whole, this number only amounts to around 2.49% of the total strength. However, it's still a pretty high number. Moreover, we must keep in mind that our population has drastically increased over time.
Therefore, it's extremely important to keep this community in mind and celebrate their lives. And PSL franchise, Peshawar Zalmi, did just that through the Peshawar Zalmi Foundation.
On Wednesday, a first-of-its-kind wheelchair cricket match was held in Peshawar. The two opposing teams? KP Zalmi and FATA Zalmi.
Inclusion is within everyone's ability! Join us now at the Hayatabad Sports Complex in Peshawar to witness the best of abilities. #AbilityWithDisability #ZalmiWithAbility pic.twitter.com/qRJOawTUBv

— PZ Foundation (@pzfoundation) December 6, 2017
And if pictures are a testament to how things went down…
…it looks like it was a match worth watching…
…and a truly nail-biting and thrilling experience.
The main idea of the match being played was inclusion. 
In fact, Javed Afridi, owner of Peshawar Zalmi, even shared his thoughts earlier while raising awareness about the match.
Disability is not an obstacle to success and not an inability in any way! Owing to this notion, we are organizing first of its kind Wheelchair Cricket contest b/w KP Zalmi & FATA Zalmi at Hayatabad Sports Complex in Peshawar tomorrow. #AbilityPeshawar #AbilityWithDisability pic.twitter.com/fxwfF7mNvo

— Javed Afridi (@JAfridi10) December 5, 2017
It's honestly wonderful to see influential individuals using their platform for the betterment of society.
It's imperative to promote the idea that being disabled is not a hindrance to performing well in life.Here's hoping we see more of such initiatives, for inclusion and awareness truly are the first steps to a more accepting society.
What do you think about this? Share your thoughts below.