Are you one of those people who can't help take a picture every time you go out? Pictures are the best memorabilia and unless you get everyone in the frame, were they ever even there? But all things go to hell when you're trying to capture the perfect moment fit for your bedtime photo frame and things don't go as expected.
If you're a shutterbug who can't help but snap away but fate has some other plans, here are a few things you have DEFINITELY experienced when trying to take a group photo, or like all the cool kids are calling them, "wefie":
1. The time when your friend's forehead takes up more space than everyone else in the entire picture.
2. The time when you're just a floating head in the wefie.
We're referring to  the innumerable times you've had to squeeze your selves, life and limb, to make it into the frame. An even then, just barely make it. And that too, like nearly-headless Nick.
3. When you ask a friend to take a group photo and they fill your camera gallery with their own selfies.
Damn, you.
4. When someone forgets to "warn" you before taking the picture.
and you puke a little in your mouth when you look at your unprepared face and three of your chins stare back at you. How hard is it to say, "cheese"?
5. That one friend that always looks haseen without even TRYING.
Photogenic honay ki bhi HUDH hoti hai. This person always manages to steal your thunder. hmph.
6. When you don't have a wide-angled camera for a wefie and the result is always unsatisfactory.
What is all this negative space in between people?
Why is half of my face cut off?
Mere pyaare kapre tou nazar bhi nahin aarahay.
7. When you're trying to take a picture with your insanely tall friend and you're not quite as blessed in the height department.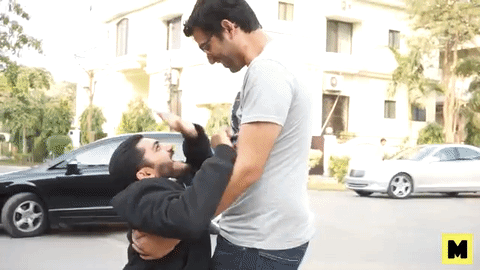 How awkward. Lag raha hota hai jesay baghal ke neeche se choti bachi nikal rehi hai. Which wouldn't exactly be such a pain if you and your friends own an Infinix.
8. When that insanely tall friend and human selfie stick keeps complaining about always having to take all the pictures and stretch their arm like a damn crane.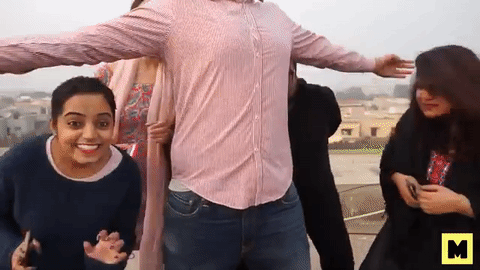 Okay, friend. Didn't you know hamari dosti issi wajah se tou hui thi?
9. When you use a selfie stick and the awkward AF arm is existing in all the pictures.
Selfie sticks are so 2000 and late. Not only are they unnecessarily obstructive and cumbersome to carry around, they're just too conspicuous to be truly cool. Like put that thing away!
10. When you forget to switch off the flash.
OH MY GOD FLASH OFF KERRO FLASH OFF KARRO. Aur uparsay the photo is also blurry.
11. That one friend who always pouts and everyone makes fun of them after the photo is taken.
Whether it's the pout or you twisting your legs a certain way, there's always that one friend who HAS to point it out matlub, thaktay nahin ho same jokes maar maar ke?
12. That one friend who ALWAYS has that cartoonon wali shakal in photos.
13. That one friend who looks away for a "philosopher" type tasveer and you literally don't get it. 
This should only be allowed if you're as badass as Allama Iqbal. Otherwise, phfft. Please, stop.
14. That one person who's hand is inappropriately around your shoulder and you think to yourself, "shit, ye picture lagayi tou everyone will automatically assume ke hamara scene hai."
15. When you ask your friends to cover your nangay arms kyunkay sleeveless pehna hai aur ammi ke saamnay jo shawl pehni thi woh kub ki utar gayi. 
16. When you have to take an all-girls and all-guys picture after a hangout for respective social media spheres.
17. And after all is said and done, that one friend that ends up deleting the picture because they didn't look all that great in it. 
FRIENDSHIP ENDED.
For the best results ever, you have to have just the right equipment…
 …like Fawad and Sonam Kapoor, but of course. Get your hands on Infinix S2 PRO from Daraz.pk and take wefies like NEVER BEFORE. Mana ke dil mein jagah honi chahiye, but if your Infinix Wefie camera can accommodate all your friends and then some, we'll happily say cheese to that.
---
This article was sponsored by Daraz.pk
Well friends, the struggles are now behind us. Because the Infinix S2 PRO, the world's first ever Wefie smartphone, just launched on daraz.pk, and features a 13.0-megapixel rear camera and dual front cameras that will let you take wide angled pictures. We're talking an ultra-wide angle of 135°.   Now isn't that a sweet treat?