If you're a 90's kid and don't remember the Pakistani band "Call"…Well, I can try to forgive you ("new year, new me?") but their music was pretty dope. Who do we hold accountable for drilling McDonald's hotline number in our memory forever?
THESE GUYS
*cue 11-12-44-622 I'm lovin' it*
But seriously, though, the Pakistani band gave us a bunch of pretty decent chart-toppers (the lyrics to which I can still sing along to). In case you need a refresher:
Laree Choote
Sub Bhula Kay
Shayed
While the alternative rock Pakistani band was originally formed in 1994, many of us remember them past Xulfi's transition from Entity Paradigm to Call. A troupe including Zulfiqar J Khan, Danish J Khan, Khurram J Khan and Omer Pervaiz and later, Junaid Khan. The group has had their fair share of disbanding and revivals, with some of them relocating, others pursuing solo projects and taking breaks.
Xulfi has been very active in the music scene since, what with his involvement in Nescafe Basement and of late, The All Girls Band project.
And we all know what Junaid Khan has been up to.
Perfecting that smolder
Breaking hearts with that million dollar smile
In between his stints in singing
Basically becoming the guy your mother warned you about.
Now, with the release of their latest video for an older track "Teri Haar Hum" from the album "Dhoom", Call is back after a hiatus which is kinda, sorta, totally, definitely a big deal.
Many of us mere mortals are very excited about this BIG news:
Profoundly touching how call band reunites to bring back the feels of 90s bands for the love of its fans. ? #15yearsWithCallFans

— Snober Abbasi (@snobers) January 2, 2017
Wait no more! Here is #TeriHaarHum's video. Come & celebrate 15 years of Call! ?https://t.co/wJ69sak4WX … #15YearsWithCallFans pic.twitter.com/PtlNPmOWb9

— Patari (@patarimusic) January 2, 2017
Even after so many years, "Hum se hai Zamana" is considered as one of the best songs.#15yearsWithCallFans

— NUST Media Club (@TheNMCOfficial) January 2, 2017
Me RN: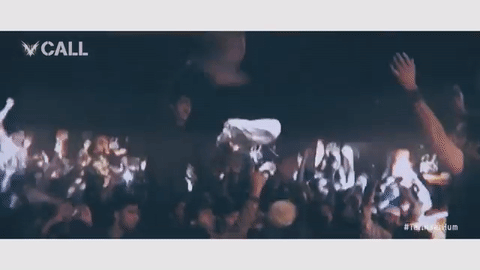 Speaking to MangoBaaz about the song, Xulfi shared, "This year marks the 15th year of the band together so the song celebrated the 15 year journey of the band with the fans. The video has footage from all 15 years."
Listen to the ??? track here and celebrate #15YearsWithCallFans:
Editor's note: This piece has been updated to reflect that the band's "comeback" is not exactly a regrouping after 15 years but a reminder to fans that they have been around, just not that active.
---
Cover image via trendinginpakistan.pk