Shahid Afridi is part-time professional cricketer and full-time prolific distributor of heartbreaks, it seems. Boom Boom Afridi is not only a sportsman, he has been an entertainer that thrived on the audience's thirst for theatrics throughout his resounding career. Some might think Afridi rode his career, in its entirety, based on sheer luck and show pony skills but it isn't just luck that turns you into a big hitter that has scored the most number of sixes in the history of ODI cricket. With the sudden surge of sixes over sixes and an abrupt catch that would end the streak (and leave you gaping the television screen in disappointment and anguish), Afridi always garnered a rather love-hate relationship with Pakistani cricket fans.
And one such fan has had just about enough of his showmanship.
Meet Hasan Qureshi, a Dubai-based Pakistani who happens to be a fervent supporter of the Men in Green.
And like every other Pakistani, save for a few lone soldiers who still have faith in them green boys, Hasan has also decided to set his relationship status to TL;DR "Friendship Ended".
It was good while it lasted.
It's not me, it's you.
"Lala this is no joke, I'm serious. Its over. Katti.", were his parting words when asked for a comment.
Hasan, who wants to be referred to as 'the dude with a banner', remains firm on his decision and can't be deterred.
And who has Afridi been replaced with?
The rising underdog, Sarfraz Ahmed.
Wicket keeper-batsman-cum-stealer-of-hearts
Meanwhile, LALA HAS NO FUCKS TO GIVE WHATSOEVER.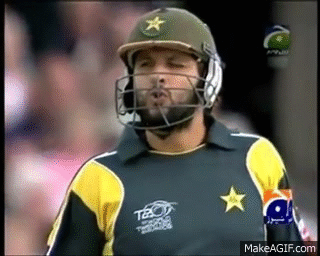 Haters gon' hate. Potatoes gon' potate.