Growing up in Pakistan, playing cricket was an absolute staple. It didn't matter who you were, where you were, what you were doing, or if you didn't even like to play – cricket was always the answer. Playing cricket in any part of the world is great and even though our team may not always be the best (Love you Younis, congrats buddy), the spirit of the game has never faltered in Pakistan. Not to forget, EVERYONE aspired to be an international cricket player one day.
Here are just some of the things every cricket lover that grew up in Pakistan can relate to:
1. It was always something to do when you had nothing to do
It was also something we all did when we had too much to do…
2. Wrapping your tennis balls in fresh electrical tape Wrapping your tennis balls in fresh tape was enough to get you pumped up for any game of street cricket. The toughest decision of course, was which classic color to use: red or white.
3. Your mom yelling at you for always playing in the street
"Homework nai hai????" Sorry to all the mamas out there but game bohot close chal rahi thi. 
4. Putting street light hangers for night matches Takay hum poori raat khel sakay aur mohallay walo ka sar khain.
5. Running away from the guards who were trying to kick you out of public grounds
Yeh mujhe kabhi samajh nai aye, what else are grounds for?
6. Sucking up to your older brother so he'd take you to play with your friends You'd be forced to field every time but whatever, cricket tho cricket tha. 
7. Playing literally anywhere There was no such thing as 'no room.' In class, the canteen, the roof, corner of the room – there was no place that a good game of cricket couldn't be played.
8. Using literally anything as a bat Bat nai? Tho kya? Yeh lo, book, clipboard, phone – chal jaye ga.
9. Buying the winning team bottles of
Pepsi

and samosas but sharing them in the end anyway It was never about being competitive, the real fun was just hanging out with your friends in the name of cricket. Sorry, a little senti here but whatever, you know it's true.
10. "Bat mera hai, pehli baari meri hogee"
This rule was law. No exceptions. Bye.
11. 'Shit, bat toot gaya"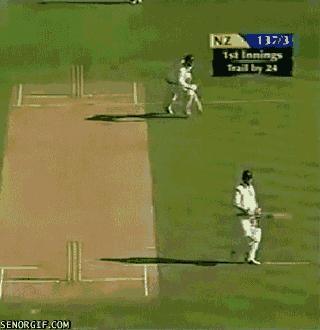 Tough luck, yeh lo, book use karlo.
12. "Out ya naiii??" Just when you thought you hit a six, the ball was actually in the neighbor's yard. Matlab, game over.
13. Making a Pepsi ka crate the wicket. Innovation tho cricketers sai seekho.
14. Or anything for that matter…
Toothpicks, pencils, hangers, phones – I mean, real engineering.
15. Getting hurt and not telling your ammi it was because of cricket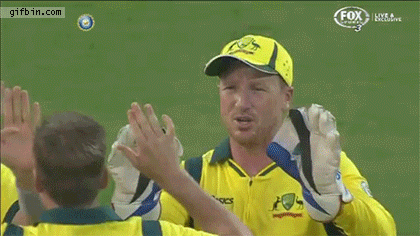 Ball to the eye? Bat lag gayee? Dived too much for the ball? Jo bhee, just don't tell mama, otherwise byeeee cricket.
16. Cricket games at home The real MVP's were all the moms who would let us play cricket in their lawns and more than that, the plates of burgers, fries and huge glasses of Pepsi they would give us afterwards. Love you moms.
17. Late night games in Ramazan
Playing a lonnnnng game of cricket into the night after iftaari? Nothing better.
18. Breaking literally everything in the street
Hamesha hamaari ghalti nahi hoti thi! That parked car came out of nowhere…
19. Including people
Okay these people actually came out of nowhere.
20. Having to move the whole game over because of the cars
Okay, yeh safety keh liye tha but still, it was super annoying. Plus we had to block out the streets, aakhri over thi bhai – majbouri thi. 
21. Uncles yelling 'Yahaan kyun khail rahay ho!?'
22. Aunties yelling
'Yahaan kyun khai rahay ho!?'
23. Everyone yelling 'Chikaaaaaaaa!'
24. Sneaking your friends out to play cricket
What are the mornings for if not cricket? Friends help friends play cricket and running to the pitch at 5 am. Oh and another rule, Jo pehlay pohncha uss ka ground. Bus. 
25. Screening cricket games at each other's houses and getting very emotional over our losses
Most of us couldn't actually go to the games, so ordering in pizza with giant bottles of Pepsi and screaming at the other team from the sofa was a pretty great alternative.
26. Wishing you could be a cricket player growing up
Watching the big boys play in the stadium made us all want to be professional cricket players. Of course we couldn't be and life came in the way. Stupid life. Btw, to all the kids reading this, pursue your passion and find out about the Pepsi Future 11 program! It'll put you one step closer to making all your cricket dreams true ~
27. Having to sprint away from a game because of the 65 missed calls from home so you could avoid the nice little phainti you were going to get
Do you have any fond memories of growing up with cricket in Pakistan? Let us know in the comment section so we can all be cricket loving and awaami together!
---
This post was sponsored by Pepsi.
Pakistan is full of cricketing talent and Pepsi is proud to give an opportunity to every young talented player. Through a series of trials across Pakistan, the Pepsi Future 11 program was created to discover and bring together a team of  skilled players to play for the country's national under-19 team. Tho kya khyaal hai. Hojaaye?