Okay friends… The Pepsi Battle of the Bands episode that we have all been waiting for JUST aired and…
O
M
G
It was insane.
The episode started off with Ayesha announcing the fact that THIS episode was going to be the one to determine the two finalists advancing into the final round on Pepsi Battle of the Bands. And if THAT wasn't intense enough to hear,
This epic performance happened: Asrar kicked off the show with Wilding feels AF with his performance of Lajpaal Ali. Way to set the tone, am I right?
Roots attempted the traditional folk song, 'Peera Ho'.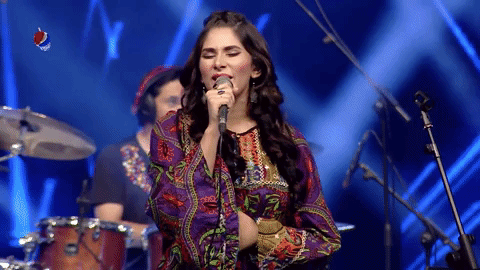 Though the crowd seemed to be ooohing and aahing at the unique cover, the judges were less than pleased with the amount of errors the band made in their performance. Oh, no…
Then…Everyone's favourite broody boys, Kashmir took the stage with their rendition of 'Mendah Ishq Vi Toon.' The crowd went crAaAaAaAazy for their sound and it was well received by the judges as well. Atif took a moment to stand up and honour the creator of the song, Pathanay Khan, as him and the rest of the room joined in on the applause. Last but SO not the least, Badnaam , looking like ABSOLUTE rockstars with their headbands and eye liner took the stage and
SHUT DOWN THE HOUSE.
The judges gave their first ever standing ovation on the show and were singing with praise (Pun INTENDED) with their performance of 'Bismillah Karan.' Finally, after an intense deliberation and DEFINITELY LONGER THAN USUAL suspenseful pause, Meesha announced that Badnaam would be moving on to the final round.
And if that wasn't enough drama for you, Kashmir and Roots had to battle out their bands for the final spot on next weeks episode.
Roots gave an exceptional performance with 'Pagal Sa.' and Kashmir gave us all the feels with their original song, Soch. Finally, after everything was said and done, the judges announced that Kashmir would be joining Badnaam as the finalist on next weeks episode of Pepsi Battle of the Bands. Though it was sad to see Roots leave, the band was extremely grateful to have made it this far. Don't think most of us would have the heart to do that, so it was heartwarming to see that the love for rock music comes in all types of notes.
AND WITH THAT FRIENDS, YOU HAVE YOUR TWO FINALISTS,
Kashmir and Badnaam. We are DYING to see how this battle is going to go down and who will walk away with musical victory on Pakistan's biggest battleground: Pepsi Battle of the Bands.
Haven't seen this week's episode yet? Don't sweat it, we gotchu:
---
This post was made in partnership with Pepsi Pakistan.