Skin whitening is an OBSESSION with the desi community everywhere. We all just want to be as white as snow and in this race to bleaching ourselves silly, we attempt some dark things. Like blindly following companies that capitalize on our whitening obsession knowing that their products are shite and won't do anything to "brighten" anyone's skin.
All the bleaching products and skin whitening creams have led to countless women being duped for their money
Thankfully, in 2017 we have role models who SHUT. DOWN. this whitening obsession every desi has
Like, Irene Khan who is a Bengali-American fashion and beauty guru with over 300k followers on her social media.
She appeals to the desi doll
Also, to the traveler
The foodie
Gahh, so beautiful *heart eyes*
how #couplegoals are she and her husband?
And most of all, she is UNAPOLOGETICALLY honest
After an Instagram company reached out to her to endorse their product she said OH.HELL.NO.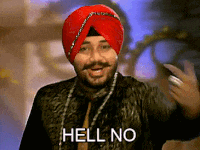 she was not having their shit.
It's 2017, can we ban skin whitening products?

For fucks sake..

Don't ?? ask ?? me ?? to ?? endorse ?? that ?? shit pic.twitter.com/1vmXOhJJeJ

— Irene Khan (@irenesarah) January 30, 2017
YES MY GURL YOU TELL EM,
SHE'S GOT OUR BACKS
As for you…
Bye Felicia.