Desi girls grow up adhering to a long list of do's and don'ts. If you follow the list, you are a good, neik and absolutely shareef woman. And if you don't, then haw haye! You are behaya and badtameez! To make sure you don't end up being a disgrace to your family and society – because your self-worth and sharafat are obviously tied to your actions, we bring you an ultimate guide to becoming a shareef woman:
1. Don't stay out late
Because women from respectable families do not stay out late. There's no real hard and fast logic here. Men can come back at 4 a.m. reeking of chars. Woh sahi hai. Par aurtein? Please, sharafat se time par ayein. 
2. Don't be friends with boys
Because male friends = boyfriends. There's no other way around it. Haven't you heard? Ek larka aur larki kabhi dost nahi ho sakte? Sure, guys can talk to as many girls as they want, but the badnaami only applies to women.
3. Don't go out without your dupatta
Because if you are not wearing a dupatta, "you are asking for it." Don't you know – dupatte waliyon ko koi nahi cherta? And if they say they've been harassed, well, dupatta sahi nahi pehna hoga. Obviously. Be a shareef woman. Your dupatta is your shield.
4. Don't smoke
Because women who smoke are characterless! Guys who smoke are cool and all, and it's TOTALLY okay for them to smoke sarak ke beech main. Bas aurtein nahi kar sakti, because haw. 
5. Don't have an opinion
Opinionated women? IN THIS PURE LAND? Mazaaq nahi karo. Aurton, apney opinions apne paas rakhein.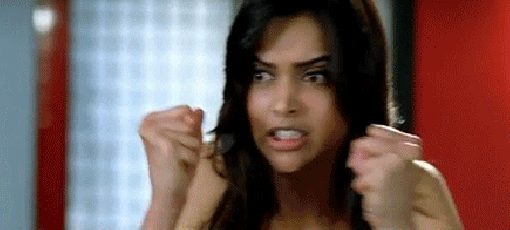 6. Don't wear dark lipstick
Because women who wear dark shades of lipstick are, again, characterless! Matlab, seduce karna hai kya? Also, men totally don't like a lot of makeup. And since a shareef woman will dedicate her life to living according to what the patriarchy wants, keep their preferences in mind. Please, nudes only.
7. Don't wear jeans or anything that shows skin!
Because who are you showing those legs to, haan? Don't you know your jeans cause earthquakes?!
8. Don't talk or laugh loudly
Because women are supposed to be quiet and ladylike.
9. Don't swear!
Because good girls don't swear. Gaali dena sirf mard ka haq hai. 
10. Don't drive
Because women certainly don't know how to drive. Lolz, auqat main rahein and sit in the peeche wali seat.
11. Don't work after marriage
Because it's your responsibility to take care of your husband and his house after marriage. Your husband is like your child. And your child is also your child. You are now a mother to everyone.
12. Don't sing or dance unless it's at a family wedding
Because family members are harmless. But even then, thora easy ho jao. Save the Chikni Chameli dance step for your husband.
13. Don't be a feminist
Because feminism is a Western phenomenon propagating behayai in you. It's not about merit or equality or ending oppression. No, it's all a trap.
14. Don't say no to marriage or having children
Because marriage and motherhood complete a woman.
15. Don't even dare to be strong or independent 
Because you are supposed to be "fragile" and "dependent."
16. Don't have a career or aspirations
Because that is a man's thing! Ghar baith kar khaana khud garam karlo. 
17. Don't ask the men to do their own work
Because you are supposed to provide for them. Or karti kya ho tum? It's like, your only job.
18. Don't get a tattoo
Because tattoos are HARAM! Tauba tauba! Also, it's your body and all, but like you can't make your own decisions about it. That's just how it is.
19. Don't think much. 
Sochna mardon ka kaam hai. A shareef woman just exists to please others around her while killing every bit of her own happiness. There.
By now, you're probably thinking – bas, itna hee karna hai? But some women fail to accomplish even this. Hadh hai. Khair, tag your friends in the comments to help them see the light. Also, you're welcome. (And for those who don't get it, yeh mazaaq hai. If you actually agree with this, well then shit.)
---
Cover image source: MD Productions via samaa.tv