Yesterday, as the world celebrated the International Women's Day with fervor and continued promises to conquer pertinent issues with inequality, gender roles, gender gap and injustices, Instagram featured inspiring stories from all over the world showcasing diversity for Women's history month. All through March, Instagram will be highlighting stories of women doing extraordinary things around the world.
And 19-year old Areeba Siddique from Pakistan made the list.
The post has since garnered over 2 million likes with comments overflowing from all parts of the world. Areeba has also been asked to take over Instagram story today where she shares little snippets of herself, her inspiration and her art.
Areeba Siddique is a 19 year-old Computer Science and Art student born and raised in Karachi. She currently resides in Thatta with her family.
"I'm from an archetype Urdu speaking family, we're religious and take culture very seriously", Areeba shares, while speaking to MangoBaaz about her roots.
"My family has strict rules about certain things but they're super supportive about my artwork and internet life. They're the main reason how I have made it so far. Just imagine two girls wearing lots of make up & running from the front of the house to the back garden chasing sunlight for pictures, this is a casual routine for me and my twin Noor and my family is perfectly fine with it (I'M SUPER GRATEFUL!!) Sometimes my uncle helps with photography for my outfits posts so if I ever make it to a nice fashion blogging career, I'll owe it to him."
Areeba is a freelance illustrator and contributes monthly to Rookie magazine, an online publication boasting writing, artwork and photography submissions from all over the world, especially for teenagers.
She also creates visual content for social media campaigns
"I still remember the time when I used to get 2 hours each day to use internet and now my whole life is internet centered at the moment."
Telling MangoBaaz about her illustrations that literally POP and resonate very strong with women of hijab, Areeba says it's not really an easy task.
"When I first started posting my illustrations, I had NO IDEA what they might start meaning to me and other covered women on internet. It's like shouting on the big wide world of web, "LOOK! HERE'S SOME COVERED HIJABI WOMEN COMIC! WE'RE JUST LIKE ANY OTHER WOMEN IN THE WORLD!"
There are huge misconceptions about Muslim women, especially hijabi Muslim women, on internet and I feel like I sometimes help other people understand that a covered young Muslim woman isn't an alien thing and should be taken as a normal person. Religion has always been the most important part of my life and now mixing it with art is helping me create a balance between my world and my faith and it's also showing the world that you don't have to leave your religion behind, you can take it along and mix it with your internet life."
While taking over Instagram's story, Areeba talks about what being a strong woman means to her.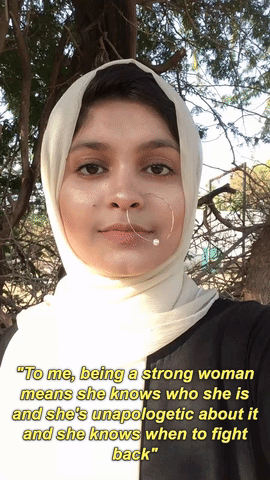 At another instance, she gives a whole-hearted shout-out to all the women in the world.
When asked about some of the struggles she faced when she first started blogging, she mentioned about the split paradigm where people can either support you or be 'super hateful'
I have to be very careful sometimes with what I'm creating and putting online because I mainly cover culture and religious stuff in my illustrations so it's kinda risky. People here can be super supportive or super hateful, it only take 2 seconds to flip everything.
I once made an illustration about a 500 rupees note with Quaid e Azam wearing heart shaped sunglasses and Zayn Malik and it actually offended people.
"I don't know if it was heart shaped sunglasses or Zayn Malik. Thought I'd LOVE a Zayn Malik note. People are unpredictable, you just don't know what pisses them off. It's horrifying but motivating at the same time, I want to talk about religion, things that make me uncomfortable, culture and emotions and I do! This is what internet does to me, it excites me and scares me! And putting my art and words and videos online is like a challenge everyday. My favorite part is never stopping what I LOVE to do the most! Instagram is just like my home online."
Areeba is a huge Zayn Malik fan, as evident from her journal entries and inspired art.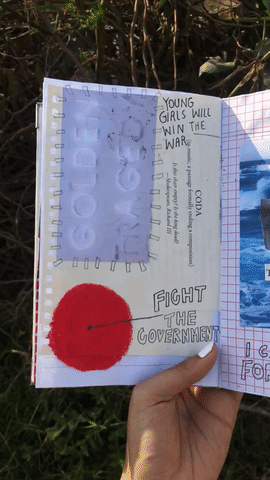 "I always tell my friends that when I get really famous and rich, I'm going to do a "Zayn Malik Zindabad" art exhibition for local zquad of Karachi. It's my favorite future plan. Another future plan includes going to an art school."
Talking about her love for reading, especially psychological thriller/mysteries written by female writers.
"Gillian Flynn and Tana French are my heroines. A good thriller book can fix any bad day for me, they're always so dark and psychologically twisted that I totally turn from Areeba Siddique to Arya Stark in my mind. I LOVE ARYA!! She's my favorite from Game of Thrones."