If you haven't seen this yet, lately social media has been abuzz with a video of a beautiful Sufi dance performance on the streets of London.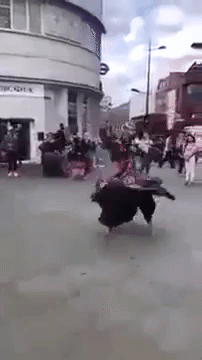 The performer is Wahab Shah – a Pakistani dance director and performer who has over 13 years of experience in performance, choreography, and production.
Wahab is the creative director at The Institute of Performing Arts and has choreographed many dances in the entertainment industry such as Rungreza, Romeo/Heer, Balu Mahi, and more.
Wahab recently just took to the streets of London in an effort to show the world a glimpse of a more lively side of Pakistan. And it is GLORIOUS.
Wahab performed on the streets of Camden Town, an area of London known for its rich culture, art, music, and street performers.
His main incentive for his performance was to make heads turn and convert people into loving Pakistan. He wanted to show the world that Pakistan is not a nation of terror but in fact, a nation of peace that has a beautiful and rich culture.
Wahab stated, "After the performance, people gathered we exchanged hugs, and conversations about Pakistani dance, how beautiful Islam is, and the message of Sufi saints."
Initially, newspapers and TV channels thought this was Zulfiqar Ali Bhutto Jr., the grandson of former Prime Minister Zulfiqar Ali Bhutto and the son of Murtaza Bhutto who is an artist settled in the United States
And Wahab had to clarify that it was he, instead, who had performed on the streets of London.
It's refreshing to see how Wahab has spread the message of positivity through his beautiful dance performance.
People had nothing but positive things to say about this mesmerizing performance
And they agreed that this is definitely a great step in building Pakistan's image internationally
Many agreed that he should keep these performances up and keep Sufism alive
What did you guys think about the performance? Let us know in the comments.
---
 Cover image via Facebook/ Wahab Shah