Raise your hand if you'd rather eat karela for a week than indulge in some heavy duty packing? Yep, that's a killer comparison and you're welcome. We all hate packing – there, I said it. While the prospect of travel can often be fun and exciting, actually getting down to folding your clothes into neat squares can give anyone a headache. Once, my brother paid our twelve year cousin a 1000 bucks to pack his bag…THAT is a reality.
If you're a person like my brother, here are a few genius packing tips that will save you a whole lotta time considering you've probably stalled this to the very last minute:
1. First off, choose a bag fit for the occasion.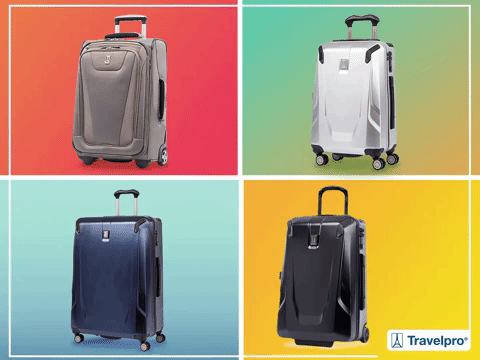 With the assortment of comfortable hardshell bags (and other trendy lookers) by International House of Luggage, you won't be disappointed.  The right size is important 'cause you have to travel in style, my (wo)man.
2. Haaaave you ever made checklists?
Don't have time to brain and think of everything you need to pack? Say no more.
There are a ton of checklists online that can help string you along the way.
3. Roll up clothes over neatly folded squares in your bag are the way to go.
Remember how your amma abba always ironed the clothes and then folded them neatly in squares into your bag. PHHHHFT, ain't nobody got time for that.
But also, it's so much smarter to just roll them up. It takes up less space and boy is it easy or what?
4. Shoes go in a shower cap or like, the plain ol' shopping bag.
Just dump 'em. But nicely, so they stick together and don't ward off dirt onto your clean clothes. See? Easy peasy.
For shorter trips, try to pack less number of shoes. Choose neutral shades like blacks and browns that are interchangeable and can be worn with any outfit.
5.   Roll the socks into your shoes before packing.
Again. Mind=blown.
6. Or stock all the socks in your underwire bras so they can retain their bouncy shape.
7. Avoid all your toiletries oozing out by putting them in a ziplock bag.
Sure, some people tape the lips individually but…look at all the time you're saving etc.
Don't forget to pack your own conditioner because the hotel ones are…not so great.
8. Put all the little babies like cellphone chargers and headphones in an empty glasses/sunglasses cover.
Hmmmm, why didn't I ever think of that? The headphones don't get tangled while they're in your bag or deep in your purse and your charger is always accessible.
9. Wear your heaviest belongings. 
I swear by this one. Packing my heavy boots/sneakers or my coat would just take up so much space so I usually just wear it to the airport. Or keep it in my carry on.
10. Repeat after me: It's okay to repeat your clothes.
Pack based on activities and not on the number of days. It's not a big deal if you wear the same outfit again – it's definitely not the biggest fashion faux pas. But hey. it's always good to pack stuff that you can mix and match.
11. Pack backups of all your documents.
Cannot stress this enough – have photocopies of your passport, driver's license, ID card – the whole shindig, in your bag. Also have scanned copies on your email. For, you know, reference.
Whether you're traveling for business or pleasure, packing a whole load or going the light route, International House of Luggage can be the choice for you. Choose from a wide collection of rolling bags, carry-ons, duffle, spinner or a simple backpack – hardshell, or soft. There's a wide variety for your use and taste. Head over now to avail a 20% discount on all your purchases.
Not to forget, IHOL has all your favorite brands. From Travel Pro, Hedgren to Swiss Pro and Lavie. Whatever you choose to conquer your travels with, the choice is yours.
So, pack away for your next adventure.
What are some packing tips you'd like to suggest? Let us know in the comments section below.
---
This post has been sponsored by International House Of Luggage.