A heartbreaking incident was brought to light recently by Mohammad Jibran Nasir through his various social media platforms.
A father had to travel 13 km for the treatment of his daughter who was battling death. They traveled to the Kandhra Rural Health Centre (RHC), only to find a deserted hospital with no staff available. The man was then forced to take his daughter from a small town in District Sukkur all the way to Sukkur City.
Jibran also shared a video of the father discussing his plight.
A father travelled 13km with severely ill daughter on donkey cart to Kandhra RHC Sukkur only to be turned away. Read https://t.co/hop5w3njTp pic.twitter.com/WRbjjQvPAG

— M. Jibran Nasir (@MJibranNasir) October 30, 2017
The post he shared on Facebook further talked about how the Kandhra Rural Health Centre, built in the late 70's, is supposed to have a staff of around 50 people.
Moreover, the RHC is supposed to be up and running for around 80,000 individuals within surrounding areas. However, there is no accountability for where the salaries of those employees go, or where the employees are, to begin with.
The hospital remains deserted…
…resembling a ghost town a lot more than a hospital that is supposed to facilitate townsfolk.
Pictures of the hospital that were attached in the post are a clear indication of the fact that not only has it not been maintained…
…it's pretty much straight up been abandoned.
Moreover, the post mentions how a concerned local citizen, worried about the state of affairs, wrote to CM Sindh, Murad Ali Shah, on 7th September 2017.
The letter appealed to the CM to pay heed to the state of the hospital that countless individuals depended upon. The CM marked the letter to Secretary Health, Fazlullah Pechuho on the 13th of September, 2017. Despite this, there has been no progress. No action has been taken.
The hospital is supposed to cater to countless individuals. Many of those individuals include young children and pregnant women. 
However, it seems like corruption is gnawing at the health sector as well. Funds are being released for the RHC, with zero knowledge of where they go and who they are consumed by.
You can read the complete Facebook post here:
It's horrifying to see how the medical sector is also being preyed upon by the vicious claws of corruption. 
Hospitals being ill-equipped to handle emergencies is a hazard of monumental proportions. It reminds one of the Sehwan incident earlier this year, where the Shrine of Lal Shahbaz Qalandar was bombed, killing 90 people and injuring another 300. When the injured and deceased were brought to the Taluka Medical Hospital, it was found that the hospital was not equipped with a trauma center. Many who were critically injured could not be tended to. As a result, a state of emergency had to be declared for all hospitals in neighboring areas.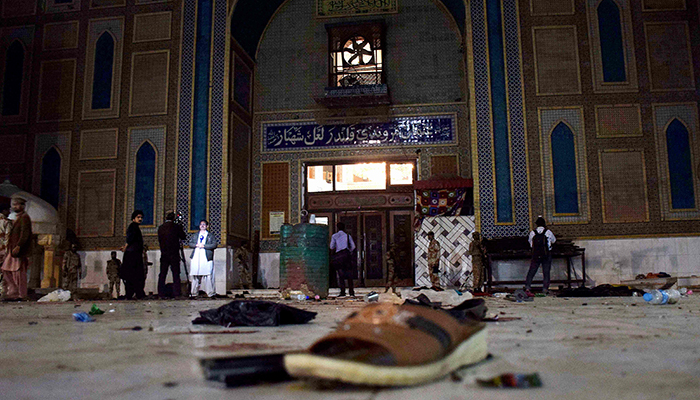 We shouldn't have to wait for such incidents to serve as rude awakenings. It's imperative that if there's any form of corruption in any sector, it should be highlighted and dealt with accordingly. Here's hoping that "ghost hospitals" like Kandhra Rural Health Centre are investigated for the betterment of the townsfolk.
What are your thoughts on the matter? Share them with us in the comments below.
Cover image via Facebook/Mohammad Jibran Nasir – Official