2016 was quite a year for Momina Mustehsan as she shot to fame post her Coke Studio performance with Rahat Fateh Ali Khan. Almost everyone fell in love with her, including MangoBaaz, which many dubbed as  "MominaBaaz" (and with articles like these we can't exactly blame them, can we?). While at the peak of her popularity, rumors started circulating that Momina had gotten engaged.
At first, she denied it
I'm not engaged to anyone, guys. Relax!

— Momina Mustehsan (@MominaMustehsan) September 15, 2016
And deep down, a lot of us wanted her to still be single. Because you know 🙂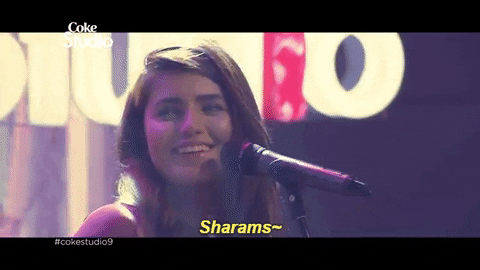 After yesterday's Afreen song , Momina Mustehsan has become "Oye Bhabhi ha teri" of half of the population

— Mark ZingerBurger? (@FBkaBaap) August 20, 2016
But then images of her started making rounds on Instagram that most definitely seemed like they were from her engagement.
After initially ignoring the noise, Momina finally confirmed that she had gotten engaged to the sound of thousands of hearts breaking across Pakistan. Acha, sorry thora dramatic hogaya hai magar sach toh hai.
Meet my fiancé, Ali Naqvi.We first met less than a month ago,our families really liked each other& now we're engaged pic.twitter.com/IS1QDfxf4X

— Momina Mustehsan (@MominaMustehsan) September 25, 2016
A lot of people were happy for her. But then again, there were many that were heartbroken. Hum bhi unn becharon mein se aik hein issliye:
But then yesterday, news started circulating that the engagement was off?
According to Daily Pakistan, someone close to Momina had confirmed that the Ali Naqvi and Momina Mustehsan have decided to end the engagement. However, they're not sure what the reason was. Now it's important to note here that neither Momina nor Ali have confirmed this news. Just a little heads up before you go around telling your friends and they tell their friends and it becomes a thing.
Reason behind momina mutehsan's breakup pic.twitter.com/hRK0vyMVaY

— Waleed Nasir (@waleednasir00) January 21, 2017
Momina has now tweeted a little note addressing all the gossip mongers:
— Momina Mustehsan (@MominaMustehsan) January 22, 2017
With words that are clearly full of hurt, she writes; "I have a personal life that I have every right to keep to myself. Please don't turn it into a joke and a source of entertainment".
Urging the many news outlets and gossip central websites to take down articles that have been spreading gossip about her personal life, she also adds; "IF there is something that needs to be shared with the world, I'll make the announcement myself. Please stop spreading stories based on guesswork, especially when they are none of your business"
Writing about all the things that have hit close to home, Momina has pushed back against all the stories that have been circulating for the past few days. Let's allow her to come forward. if and when she chooses, to confirm or deny these reports. Until then, let us give her the privacy she has very overtly asked for.
Also guys, try NOT to be happy about someone else's relationship ending please, ghalat baat :/
You're happy about Momina Mustehsan's engagement falling apart, as if the fiancé was the ONLY thing standing in your way of getting her ?

— Valatári (@IntoTheStyx) January 22, 2017