All things Momina Mustehsan are worthy of discussion and we endorse it
Momina Mustehsan and Danyal Zafar have been friends for a while. Be it's Momina's birthday where Danyal was such a good sport playing tug of war or complimenting each other's voice, they make a pretty good team. Until…yesterday where they kinda sorta got into a food war.
Whoops….
It all started with Danyal Zafar having a little too much gosht on bakra Eid. 
(Happens to the best of us…)
Which personally offended BFF Momina Mustehsan.
Alright then, let the food wars begin! #DesiNoMore ????? pic.twitter.com/5ufah9nlq8

— Danyal Zafar (@DanZafOfficial) September 11, 2017
Aur baat wahan se kaafi aagay nikal gayi...
Momina wasn't the one to back down either.
It's on son! @DanZafOfficial #DesiRocks pic.twitter.com/TPPmU1z56Q

— Momina Mustehsan (@MominaMustehsan) September 11, 2017
This prompted all of the twitterverse to join in on the fun…because that's basically what we do. People started tweeting in teams of #DesiRocks and #DesiNoMore.
But you guys, we come bearing good news. The two have officially called for a truce…
(Dammit. We were having just so much fun)
Giving us the best gift ever: FUSION FOOD.
Twitter is beautiful today with all the tasty…
Sista' @hinasafi are you daring enough to try this #FusionFood Steak with me? Say yes! pic.twitter.com/jQ0VMAokxM

— Aisha (@HariMirchein) September 13, 2017
Have to admit that looks so aesthetically pleasing.
Whacky
What exactly is #FusionFood?

— فریحہ (@Fay_Alif) September 13, 2017
Experimental
Me and sister @FammaMalik have agreed upon #FusionFood for our next catch up session, no desi no non desi juzz some great fusion food! pic.twitter.com/cTIRFf6y3B

— Aisha (@HariMirchein) September 13, 2017
Yummy
Guess what it is.#FusionFood pic.twitter.com/iw6oHTVl1X

— Hina Safdar (@hinasafi) September 13, 2017
Hayeeeeeee.
And downright….
CRAZY
Horrible food porn#FusionFood pic.twitter.com/UsvVW7iduI

— Eiswan Ali Kazmi (@eiswan_ali) September 13, 2017
FOOOOOOOOOOOOD
Meatballs on pizza. ? #FusionFood pic.twitter.com/o6QPTlq60l

— Nugs (@SohaTazz) September 13, 2017
Acha thorra zyadah hogaya
Mood: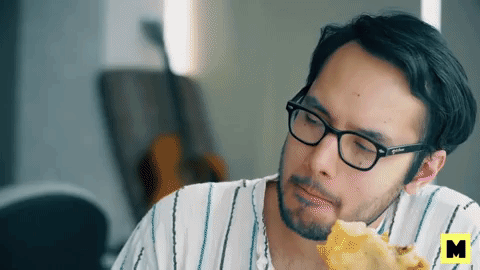 After all is said and done, there's always one person who is happy about all our culinary adventures:
When my amma sees me doing experiments with recipes ?#FusionFood pic.twitter.com/ZD913AdbyT

— Farah Zafar (@farahzafarrr) September 13, 2017
Are you in or are you out? Is fusion food what you've been waiting for all along? Are you more #DesiRocks or #DesiNoMore? Are you hungry? Are you bored? Are you none of the above?
Let us know in the comments section below.