This is Krishna Kumari Kohli.
Krishna Kumari has become the first-ever Dalit woman to be elected to the upper house of Pakistan's parliament. The 39-year-old was nominated for a minority Senate seat from the Sindh Assembly by the Pakistan People's Party (PPP) last month.
Kohli comes from the Nagarparkar village in Sindh's Thar. She was born to a low-income family in 1979. She and her family were held captive as bonded laborers for at least three years in a jail run by a landlord when Kohli was a child. 
They were set free in a police raid on the farmland of their employer. Kohli got married at the age of 16. However, she pursued her education after marriage, earning a postgraduate degree in sociology from the University of Sindh.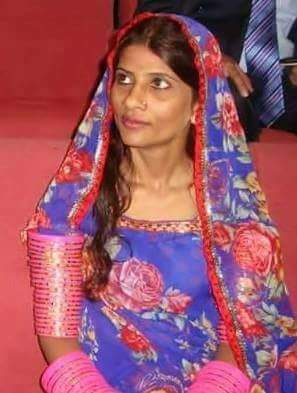 Kohli began her social activities in 2005 by organizing and participating in different seminars in Tharpa­rkar.
Moreover, she was selected for the third Mehergarh Human Rights Youth Leadership Training Camp held in 2007 at Islamabad. During the camp, she covered an overview of people's movements in the world, history of social movements in Pakistan and a thorough understanding of the governance system in the country.
She also learned strategic planning and tools for bringing social change.
Kohli had joined the PPP as a social activist. She has actively worked for the rights of the marginalized communities of Thar. Additionally, she is also a human rights activist focused on women's rights, bonded labor, and sexual harassment at the workplace.
The entire nation is celebrating this milestone:
Truly delighted: Krishna Kumari Kohli of PPP for being the first ever Dalit woman to become a Senator.

Well done, PPP, and more power to women from neglected communities of Pakistan on representing all of us in Senate ??? pic.twitter.com/x5dih96x39

— Mehr Tarar (@MehrTarar) March 4, 2018
Meet Senator Krishna Kumari Kohli, first Hindu Dalit woman to reach senate. Congratulations!
Only PPP can do this! ? pic.twitter.com/ojUpE6IPMI

— Saadia Afzaal (@SaadiaAfzaal) March 4, 2018
Krishna's appointment is the victory of every minority group in the country.
Krishna Kohli's success is another step in the direction of Jinnah's Pakistan. Days like these remind me that my abbas sacrifice was not in vain& that we will have a tolerant Pakistan for all Pakistanis. Thank you @BBhuttoZardari

— Shahbaz Taseer (@ShahbazTaseer) March 4, 2018
Creating History: Krishna Kolhi, 39 year girl from Thar becomes Senator in Pakistan. https://t.co/l2XYL7gtEv

— Majid Agha (@Majid_Agha) March 4, 2018
And people from all walks of life are commending the decision.
A fantastic day for Pakistani women as @kishooLal files nomination papers for the Senate Elections.

Krishna Lal is a powerful woman from the marginalized Kohli community in the Thar region of Sindh. If she wins she'll be the first Hindu woman to serve in Pakistan's Senate. https://t.co/0leZfreSwS

— Bina Shah (@BinaShah) February 13, 2018
Additionally, people are congratulating Krishna Kumari.
Many congrats @KishooLal (Krishna Kohli) for being elected as Senator PPP. Delighted to see fellows like you in our upper house. Best wishes and more power to you.

— Ajmal Jami (@ajmaljami) March 3, 2018
Dear Senator Krishna Kohli, please accept our heartiest congratulations.
Prayers and best wishes from our family @malala@KishooLal https://t.co/zNJQpOzoxo

— Ziauddin Yousafzai (@ZiauddinY) March 3, 2018
PPP had previously elected the first Hindu woman named Ratna Bhagwandas Chawla as a senator in 2006. PPP's media cell has clarified all news items mentioning Krishna Kohli as the first Hindu woman to have been nominated by PPP.
PPP also nominated the first-ever non-Muslim senator by electing a Dalit Dr. Khatumal Jeewan as Senator in 2009 on a general seat. Likewise, Engineer Gianchand is the second Dalit to be elected as Senator in 2015 by the PPP on a general seat.
Kohli's huge milestone is one that the entire country should celebrate.
Perhaps this could sow the seeds of tolerance in Pakistan. We wish Krishna Kumari Kohli the best in all future endeavors. What are your thoughts on this? Let us know in the comments.
For similar stories, follow Wajood on Facebook.
---
Cover image via Twitter