Hey guys. Now, I know everyone's been raving about Baku and literally, every travel page has some discussion or the other going on about the same. Maine bhi yehi dekha tha during my summer break. When I heard about Azerbaijan at first, I was like lol yeh kaisa naam hai. I honestly thought it sounded pretty boring. Wohi sightseeing, wohi garmi. Baku wasn't on my list of top five places I wanted to visit.
Now that I've been there, I kinda want to move permanently.
Personal pyaar for Baku aside, what is it that's making Pakistanis flock to Azerbaijan to visit this place? Well, to find out the very same, I headed out in the first week of August.
Before I dive into Baku itself, I'll tell you guys a bit about how it all happened. I traveled through STEP. 
For those of you who may not know about the company, when it comes to broke-ass students (like me) who have the keera to travel, STEP ~steps~ in. Short for Students Tourist Exchange Program, STEP basically caters to students looking to travel on a budget. We traveled with STEP's co-founders, Zunair Muzaffer and Talha Farooqi.
A while back, STEP led Pakistan's first all-girls trip from Karachi to Khunjerab and back, which was a HUGE deal.
Our trip to Baku was STEP's first international venture. Fun fact: since the organizers are all about empowering women to travel, they tend to offer women a special discount.
In fact, when I spoke to the co-founders of STEP – they said that traveling with women is a lot better due to their higher emotional intelligence (as compared to men) that makes them more cooperative.
The journey started at the airport in Karachi, because that's where we met our official travel group. Other than people traveling with STEP, there were also members who were traveling with Borders & Beyond, a sister company that catered to, well, people who aren't students. Basically, a normal travel company. This was led by Zeeshan Rizvi.
Airport pe everyone gathered for the usual salaams, and we bid goodbye to our parents. I was traveling with my sister, toh my awkward self had someone to cling to. (I suck at making friends due to a complete lack of social skills.)
I'll skip the plane ride, the stop-over at Dubai and the drive to the hotel. We were staying at West Shine Hotel which was in an, um, pretty interesting location (kinda the red-light area. No big deal, right?)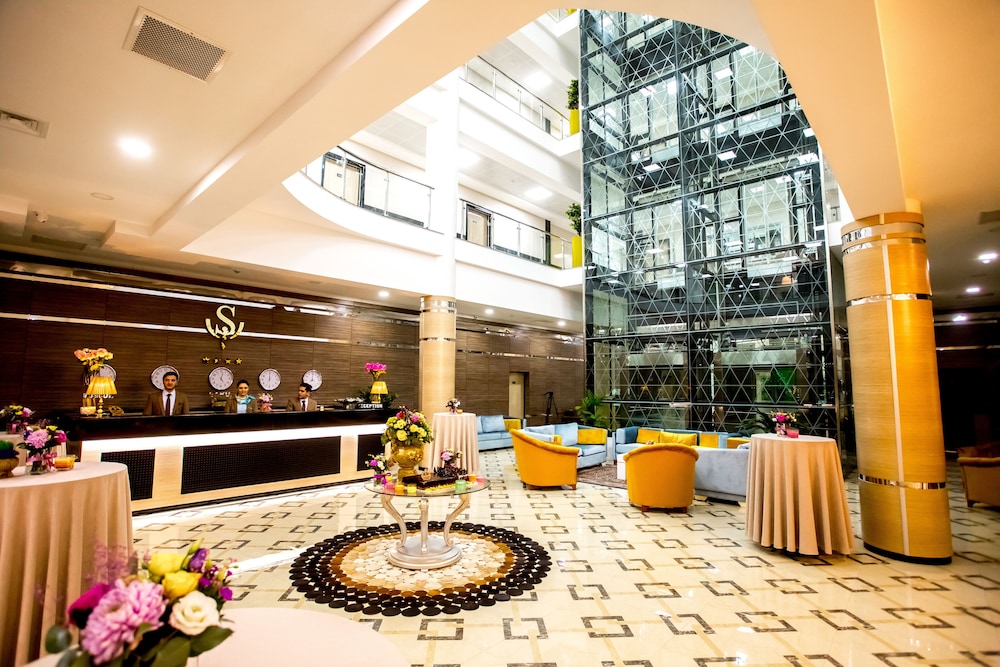 Anyway, the hotel itself was amazing. For people traveling on a budget, getting a 4-star hotel was a pretty neat deal. Besides, the staff was super friendly and there was a lot to do within the area itself.
Getting to the fun stuff. Now, the first night was supposed to be pretty light, because we'd landed dupair tak and had to rest before we could really head out. To keep things simple, we simply headed out to Nizami Street for a walking tour.
Basically, the street, named after classical poet Nizami Ganjavi, is a huge area with multiple shops and eateries. Pedestrians can walk around and there's always something going on. Moreover, there's always something to do there.
We visited Nargis Mall, Fountain Square and pretty much strolled around the shopping street. We also happened to find a super cute coffee shop where people were dancing toh obviously hum bhi ghuss gaye. Totally worth it.
The next day was packed. Like, my legs still ache when I think about it.
The first day consisted of a panoramic city tour, where we saw a whole bunch of stuff – on foot. Basically, we did a lot of walking. Pro tip: don't wear joggers that bite your feet because, by the end of the day, you WILL have bruises.
We saw the Flame Towers…
…Highland Park…
…walked around Boulevard…
…and went to Boulevard Mall to have lunch. We also checked out Martyr's Alley and Boulevard Park.
It was more informative than recreational since we basically got to know a lot about the city's history, thanks to Farid, our guide. All in all, though it was tiring, it was absolutely stunning as well.
During the second half of the day AND the next day, we went to the Nizami Street area and headed out to check out Old City. 
Now, Old City is, as the name suggests, the historical part of Baku. It's actually the most ancient part of the city, fortified by walls. It boasts of Baku's rich history and has a lot to offer to tourists – aesthetically and otherwise.
Here, we saw the famous Maiden Tower – a 12th Century monument that has held its ground till date. 
We also visited the Old City shops, checked out some of the wine-tasting places (checked out only) and were pretty much blown away by the sheer beauty of the place.
As the day drew to an end, we found ourselves warming up to Baku a lot more than we'd expected. By this time, logon se chilling bhi achi khaasi hogayi thi. And trust me, that's vital if you're going to try to enjoy a group trip.
Day 3 ki night pe, we also went to Vertical 29 which is essentially a super huge dining lounge in Baku that offers a stunning view of the city. It's also a pretty great party place, and we were fortunate enough to get in through STEP's local contacts.
Day 4 was pretty packed too, since we went to Dalga Beach Resort – essentially an Aqua Park. That was pretty lit, tbh.
Foam party scene, a live DJ, people from basically everywhere getting together and dancing – it was pretty awesome.
I have a massive fear of drowning and I'm not saying it went away, but I was in the water for a pretty long time. I mean, it was pretty relaxing and all your stuff was in a locker so you never really had to worry. It was pretty nice and it's something you should definitely check out if you're in Baku.
Raat ko, we checked out one of the coolest clubs in Baku – Enerji.
I mean, literally everyone we asked recommended this club. And full matlab kaafi VIP type scene lag raha tha. We managed to get in again, through STEP's local contacts.
I'm not someone who enjoys clubs and loud music, but honestly, Enerji was not bad. There was a lot going on – probably more than I could have processed at that point in time. Matlab DJ apni jagah, pyrotechnics apni jagah. At one point there was a dude in a Deadpool costume running around with fireworks. Yeah, it was pretty crazy.
Okay, the next day basically felt like a trip up North in Pakistan. We visited Gabala Hill Station, which seriously gave us MAJOR Nathia Galli vibes. We went on the cable cars jahan meri low key phat rahi thi…
…but the view was gorgeous. Again, ghar ki yaad aagayi, because this place just gave off major Northern areas wali vibe.
The best part was that the weather was great and at one point it even started drizzling. The drive to Gabala is pretty irksome since it takes a LONG while to get there, which is why actually being there helped. It was the perfect way to kinda shake off the stiffness from sitting still in the bus.
Oh, did I mention we were high key repping Pakistan everywhere? Flag le kar Gabala bhi pohnch gaye. 
All in all, it was just the break we needed from the fast-paced everyday schedule that was mapped out for us. Personally, for me, the serenity of the place made the long trip worth our while. On our way back, we stopped at Gabala Lake.
Some of us wanted to get some food. Others wanted to try out boating. Again, the view was definitely worth it. The oil-soaked fries we got – not so much.
I realize that this is the first time I've mentioned food. Well, fun fact, we were so busy seeing things and going to places, I actually don't remember eating more than a meal a day during the trip. Matlab, I remember eating noodles I took with me ghar se. And maybe McDonald's at Nizami and some shawarma place. But that's it.
Suffice to say, I lost weight on this trip. Another reason why I love Baku. However, from what I did try and from what I've heard, the food isn't too shabby, and if you're smart and find sasta places, you can save up.
The next day was free since there was nothing planned. This is where having a close-knit group of friends helped. And yes, that included my sister. My sister and I, along with two more girls who practically became our sisters over this one week, headed out on our own.
We sorta checked out Baku on our own, met new people, and got some shopping done. I think it was during days like these when we REALLY bonded and have kinda stuck together ever since, despite having super busy schedules.
Uske baad wala din was basically the day we were all going to leave.
We packed in shopping in the morning and headed to the airport, saying our goodbyes to the staff at the hotel and Farid, our guide.
I'll be dead honest, on the way back, my heart broke a little. After spending a week in Baku, I got why people wanted to keep visiting the place. Of course, every travel destination gives you a set of memories you'll cherish forever. But out of all the places I've been to, Baku stands alone.
There's just something about the immense beauty and serenity the place has to offer.
The people of Baku are extremely friendly too. And honestly, it's very liberating to go there as a woman and do as you please without any form of judgment or discomfort whatsoever. I mean, I wore shorts in Baku pretty much all the time and not once was I catcalled or made to feel uncomfortable about the way I dressed. It just felt different in a great way.
I did, of course, get an expert opinion on why people keep flocking to Baku. Here's what the STEP co-founders had to say:
"Budget friendliness, the Russian party culture, the picturesque natural escapes, a good European feel of the city's architectural outlook, a crossover of cultures,  and the halal food are some factors. The Baku frenzy has recently started and it's got a lot to do with the location becoming famous for its nightlife. Baku is also a great location for filming and it's a nice, quiet honeymoon spot, too."
I also asked the STEP folks why they, as organizers, chose Baku as their first international location. Here's what they shared:
"Baku is our home ground! It's one of those locations where we can call the shots from our hotel room. I'd say we feel more resourceful in Baku than we do in Karachi. It's our second home. We have a long list of local contacts who try their best to help us with whatever they've got. Besides, we knew Baku and its streets at the back of our hands. Most importantly, the visa is hassle-free – no paperwork, no appointments, no nonsense. To add to that, the green Pakistani passport is respected in Baku and the locals love us there."
Again, I can corroborate. My lazy ass didn't need to do shit. I just had to pay and hand over the passport.
Once again, now that I've been there, I get why Baku gets a lot of love from Pakistanis.
I mean, I liked it so much, I went two more times. And the second time, I was alone. That's another story (read: mental breakdown) for another day, though.
Anyway, if you're planning a trip to this beautiful city, trust me, you're really lucky and you're going to love it. don't be afraid to step out of your comfort zone, meet new people, and try new things. The memories you make will be worth it.
Let me know if this helped in any way. If you have questions, woh bhi bata dou. And if you're keen to read about my experience alone or more about the whole red-light area thing, again – comments main batayein. Thanks. Happy traveling!
---
Cover image via Sajeer Shaikh