By this point, Jeremy McLellan is more in-tune with our culture than any other gora we know. He knows all the references, I wouldn't be surprised if he had a secret Pakistani nationality and I mean, he's already like a Pindi Boy inspiration or something.
Like, yeah. We know.
Now, you may also know that he likes trolling Nawaz Sharif from time to time. Especially using his daughter, Jewell.
I mean this is literally how he announced her birth.
Mujhe kyun nikala? pic.twitter.com/vsNCTEgE4t

— Jeremy McLellan (@JeremyMcLellan) May 18, 2018
LMAO.
Better picture. So cute. pic.twitter.com/Ve8QNl4jax

— Jeremy McLellan (@JeremyMcLellan) May 18, 2018
Well, he obviously heard about the Nawaz Sharif verdict. And, of course, he took to social media to let his Pakistani fans know ke haan, I know. And, as expected, he ended up trolling Nawaz Sharif pretty savagely.
He started off easy. Really kinda getting into things, you know? Sharing news and all.
Whoa: Pakistan ex-PM Nawaz Sharif given 10-year jail term https://t.co/kUc2Ve6NhP

— Jeremy McLellan (@JeremyMcLellan) July 6, 2018
Then he was like chalo shuru karte hain.
Still can't get over the fact that Nawaz Sharif is the first person to go to jail for using the wrong font.

— Jeremy McLellan (@JeremyMcLellan) July 6, 2018
And boom. Here we go:
Bad news guys. I have just been found guilty of corruption and sentenced to 10 years in prison by the US Supreme Court. Apparently my daughter Jewell used the wrong font when forging documents about property we were hiding in the UK.

— Jeremy McLellan (@JeremyMcLellan) July 6, 2018
Talk about jaley pe namak chirakna.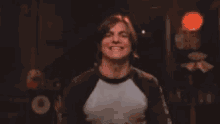 He also went in and dragged Trump (thank you) and the US Army, ending his trolling on this note:
This is simply a plot by Donald Trump, the US Army, and probably aliens to prevent me from competing in the 2020 elections. Jewell and I will be hiding out in Pakistan until further notice. Thank you for your time.

— Jeremy McLellan (@JeremyMcLellan) July 6, 2018
He saw his chance and he went in. Matlab, props yaar. And Pakistanis are really enjoying the trolling too.
Basically, they love him for it.
You are hilarious 😂

— Abrar (@abrarpk2001) July 6, 2018
Jeremy u beauty

— mariam (@ma_riam248) July 6, 2018
Notty boi.
too much naughty dude ,🤣🤣

— کامران شاھد نائچ (@Lazyhuman4) July 6, 2018
U naughty boy!!!

— Abubakar (PTI) 😍 (@Abubakar_008) July 6, 2018
Some think he needs to be careful with his words.
Your sarcasm is gonna get you in trouble one day 😂😂😂

— Noman Siddiqui (@nomantsiddiqui) July 6, 2018
Others think the whole Jewell-Maryam parallel is inaccurate.
hey, comparing Jewel to Maryam is totally unacceptable. We love Jewel

— KHamid (@kfhamid) July 6, 2018
Ohho Jeremy! Poor Lil Jewel in Jail? For 7 years for Sure???

— Umme Raza (@DrFsraza) July 6, 2018
In the end, Jeremy McLellan bhai wins, like always. 
Man you are awesome…we welcome you to hide in Pakistan…

— Maria Adnan (@MariaAdnan99) July 6, 2018
Lmao, let us know what you think about Jeremy's trolling. And I mean, also about just how crazy the whole situation really is. Share your thoughts in the comments.
---